In a league where offense and scoring are being pushed to showcase the product, it is becoming increasingly impressive when a star defense emerges. Receivers and Quarterbacks are far more protected than in the past. However, this doesn't mean that we have a league where good defense isn't played. Star players are attracting more of a premium than ever before, meaning teams need to be ahead of the game when trying to build a top defensive unit.
Some teams have historically had great defenses. That's why teams like the Steelers, Patriots, or Ravens won't appear on this list. Despite some struggles in between, these teams have boasted top units in this century more often than not. The San Francisco 49ers have not had the same consistent success, but coming off a top 5 season, it will not be as surprising to see them perform well.
Here are the top 3 teams set to shoot up the defensive rankings in 2020 (or whenever this season is played):
Honorable Mention: Tampa Bay Buccaneers
Shaq Barrett led the league with 19.5 sacks. The front seven also consists of Vita Vea, sophomore linebacker Devin White, Ndamukong Suh, and Jason Pierre-Paul. The latter two are veterans who still have something left in the tank and can continue to make this a great unit up front. If the team can come away with a passable secondary after the draft, they can be a sneaky unit for 2020. It's also worth noting having a QB like Tom Brady who knows how to use up the clock and extend drives will give the defense plenty of breaks. With an improved passing game, Brady will help keep this Bucs defense off the field, an upgrade from Jameis Winston's 30 interceptions in 2019. Hopefully that will do enough to compensate for the bad pass defense.
3. Cleveland Browns
Mason Rudolph fans, shield your eyes. This Browns defense needs a lot of work, but they suffered a bit last year due to the suspension of Pro Bowl defensive end Myles Garrett. On pace to make his second Pro Bowl in a row, and a possible All-Pro, Garrett's 10 sacks and 2 forced fumbles in 10 games prove he was worthy of the number 1 overall pick in the 2017 draft. He will continue to be the center of the defense, but he can't do it all alone. The Browns may still be a few seasons away from a truly scary defense. That doesn't mean they can't make a huge move up the rankings.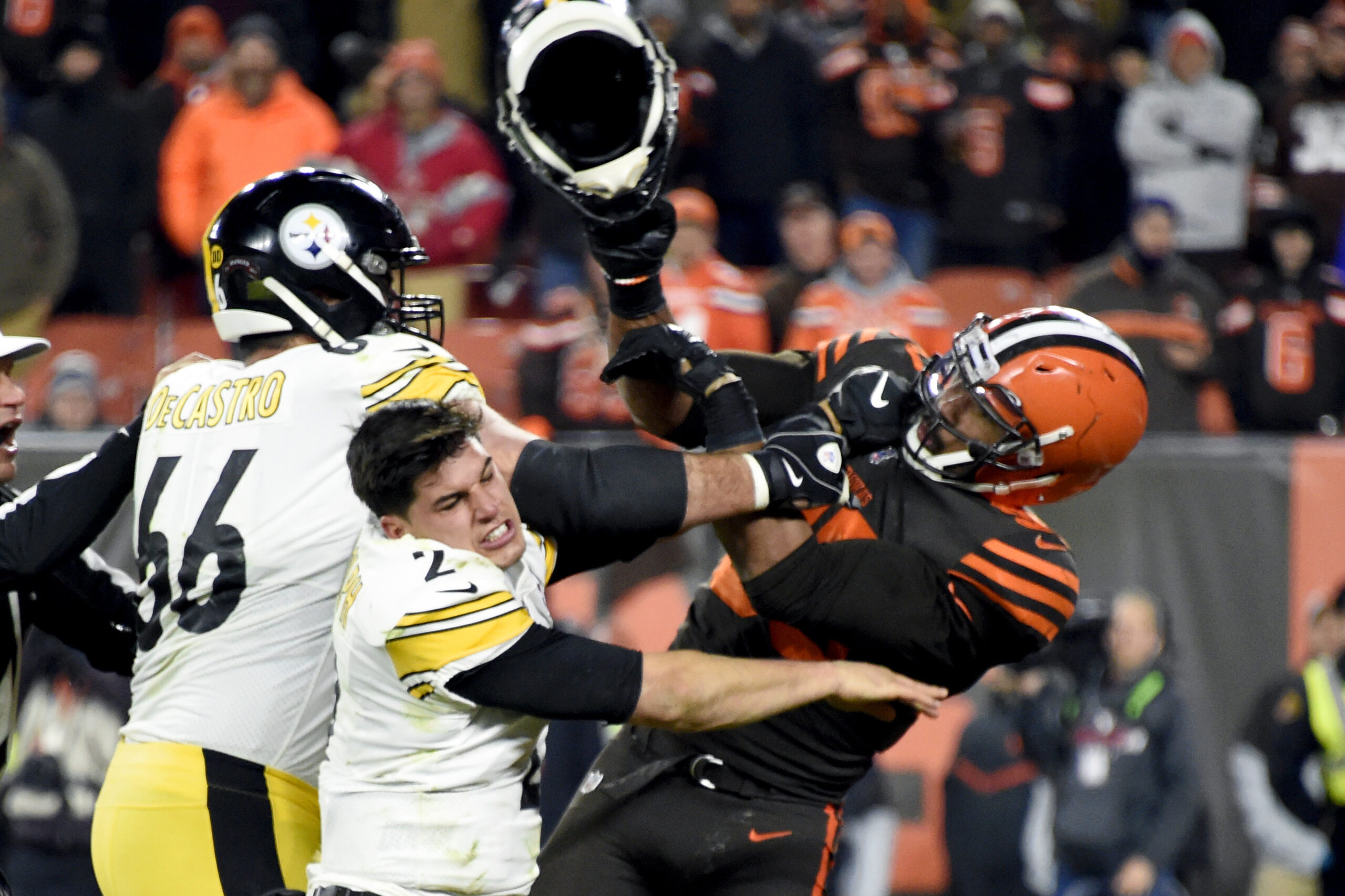 Myles Garrett paid a hefty fine and served a lengthy suspension for this hit on Steelers QB, Mason Rudolph
(Photo by Jason Miller/Getty Images)
The Browns drafted defensive tackle Jordan Elliott out of Missouri, who has the raw skill and just needs some polishing in his technique. He should develop nicely, but may not have a major role just yet. Players like Larry Ogunjobi, Olivier Vernon, and Sheldon Richardson will round out the defensive line, but the unit still needs help stopping the run.
Some big losses in free agency will hurt them. Not re-signing Joe Schobert may come back to bite them in the rear. The Browns did draft Jacob Phillips in the third round, but he may be a year or two away from a full-time starter role, and thus are still without a standout linebacker.
Denzel Ward and Greedy Williams will continue to keep the secondary sharp, but a better safety would be nice. Grant Delpit was a steal in the second round, and should find a bigger role towards the end of his rookie year. His ability to attack the backfield provides an ideal dual-threat ability.
Once again, it's unlikely that the Browns emerge as a top 10 defense, but getting into the top 15 would be a major improvement.
2. Los Angeles Chargers
For what it's worth, the Chargers have had a good defense for the past three seasons. Overall, though, they have just not done enough to convince anyone they are a top unit. They did allow the 6th fewest yards, in 2019, but were middle of the pack in points allowed. They only had 1 defensive touchdown, 30 sacks, and 14 total turnovers. A unit absolutely stacked with talent just has to do better than this. How have their top players performed?
Joey Bosa continued to show he was worth the third overall pick, with his second pro bowl appearance and 40 career sacks in 4 seasons. Derwin James was coming off of an All-Pro season, but injuries left him starting only 5 games the entire season. He should be back to form barring another season on the IR. Desmond King was also an All-Pro in 2018 but didn't do enough to come near repeating. After 4 career interceptions, as well as a defensive touchdown in each of his first two seasons, it would be an understatement to say this season was a letdown. His pass coverage significantly suffered, allowing far more completions and yards on fewer targets than in 2018. He did add his first 2.5 sacks of his career, due to their heavy usage of the dime package. It is yet to be seen whether or not he can continue to carve out a bigger role, while also performing well in pass coverage.
The addition of Chris Harris Jr. will allow for someone like King to do more on the field and keep a good corner in coverage. An All-Pro, Harris is still one of the better cornerbacks in the league despite being 31 years old now. I wouldn't expect eye-popping numbers, but Harris is a great addition to an already good defense. Linval Joseph adds a nice veteran presence on the line. He may not be expected to do much, but if they get a good rotation, he can easily get a couple of sacks and a forced fumble. Most importantly, his run-stopping ability helps a Chargers run defense that ranked 18th in 2019.
In the draft, the Chargers understandably focused more on their offense, as quarterback was their biggest question mark. They traded up for linebacker Kenneth Murray, who looks to aid a statistically weak pass rush. His presence will only help everyone around him. Safety Alohi Gilman will be nothing more than depth for the time being.
The Chargers have the pieces, but it really is up to them to use them correctly. Forcing more turnovers and getting to the quarterback will be a major area of concern. If they can do that, they are a lock to be one of the most feared defenses in the AFC.
1. New York Jets
Joe Douglas' first year as the new General Manager of the Jets was as successful as one can hope, after having one of the worst defenses (29th in points allowed, 25th in yards allowed) in the NFL. This defense has already been an impressive unit, but has a great chance to break the top 7, or even top 5. The team's success in the future is aided by one major move: no more Tom Brady.
The AFC East is now up for anyone to grab unless Belichick works his magic and turns 34-year old Brian Hoyer or sophomore QB, Jarrett Stidham, into a star. For now, the AFC East is a division that is rebuilding for all teams, with the Bills being the farthest ahead of the competition. The acquisition of Stefon Diggs, the development of young players like Devin Singletary and Dawson Knox, paired with a wild Quarterback in Josh Allen, means that this will not be a cakewalk by any means. However, the Bills offense still ranked 23rd in yards and 24th in points last season. That looks to change, but based on last year's head-to-head matchup, the Bills could pose less of a threat to the Jets than in years prior. For now, the Dolphins are not much to worry about.
Defensive Coordinator Gregg Williams has had success at the coaching position for multiple other teams and is clearly good enough to still remain as a coordinator despite his involvement in the Saints' Bountygate scandal.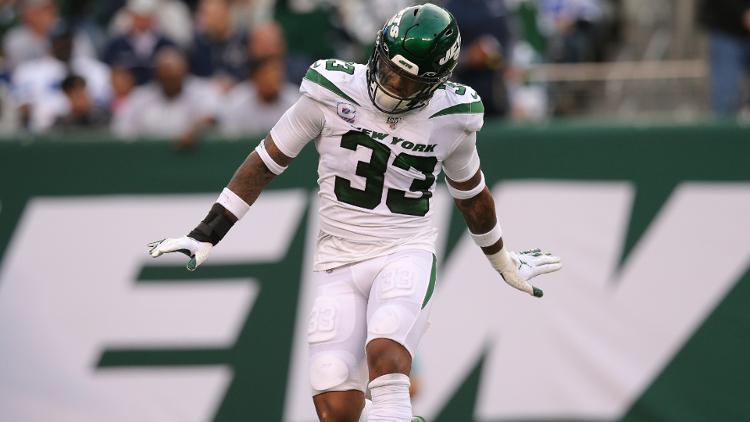 The Jets have picked up Jamal Adams' 5th-year option, amidst a contract dispute.
(Image by Alex Smith/SNY)
Most importantly, the Jets have been making solid moves in free agency. Former Falcons CB Brian Poole struggled in his first year as a Jet but played well enough to earn a career-best Pro Football Focus grade of 79. Additionally, they gained another fairly solid option in CB Pierre Desir. After some mixed results with the Colts, he still had 3 interceptions last year despite dealing with injuries. If he can stay healthy, the support of elite safety Jamal Adams is sure to help shore up the secondary, barring the Jets trading him. Former Ravens LB C.J. Mosely remains on the roster and is only 27, still young enough to provide great play at the position.
Like the Chargers, Gang Green needed to address the offense much more heavily in the draft. Adding safety Ashtyn Davis helps Jamal Adams, as will sixth-round CB Bryce Hall, who had an injury that dropped him down this far. If he can stay healthy, the Jets have a steal. Another huge need, edge rusher, was somewhat addressed. Jabari Zuniga is like a bull, though he will need to gain some patience and keep his balance up if he wants to unlock his true potential.
This Jets defense is far from perfect, but the pieces are in place for another great season and a great time to play in this division. Whether they can capitalize on their current situation will have to wait to be seen.