A few weeks ago, I covered my favorite value picks for rounds 1-7. Most of those choices were pretty easy and if you know what you're doing you should be just fine with most of your picks.
Today we are going to cover rounds 8-15, which is where things really get murky. This is where you can set your team apart with a late gem, instead of drafting some random depth that probably won't end the year in your lineup. While I typically draft a few boring players that won't explode much, you can usually find those easily.
Once again, this is based on FantasyPros' current PPR consensus draft rankings, as of August 26th, 2020.
Round 8: Diontae Johnson – WR37, 86th overall
The Steelers are one of the most interesting teams this year, since most of their fantasy value relies on the health of Big Ben. If Roethlisberger is fully healthy, guys like JuJu Smith-Schuster and James Conner should return to their 2018 glory. If he's not, we might see something only slightly better than last year.
If you're taking a receiver in the 8th round, there's a good chance they're your third or fourth, maybe even fifth option. Your earlier picks probably already have established themselves into their offenses and will get a lot of volume. What you want now is a guy who can have explosive weeks. Johnson is that guy. His rookie season in 2019 was shockingly disregarded.  I sort of get it, the only thing worth mentioning in Pittsburgh for fantasy purposes was their elite defense. With one of the least efficient offenses in the league, it's no surprise that guys like A.J. Brown got so much more love. 
But Johnson still put up 680 yards and 5 TDs with a terrible QB situation. Now with the 2018 passing yards leader back under center and looking good, getting a 1,000 yard season out of this explosive stud should be well within the realm of possibilities.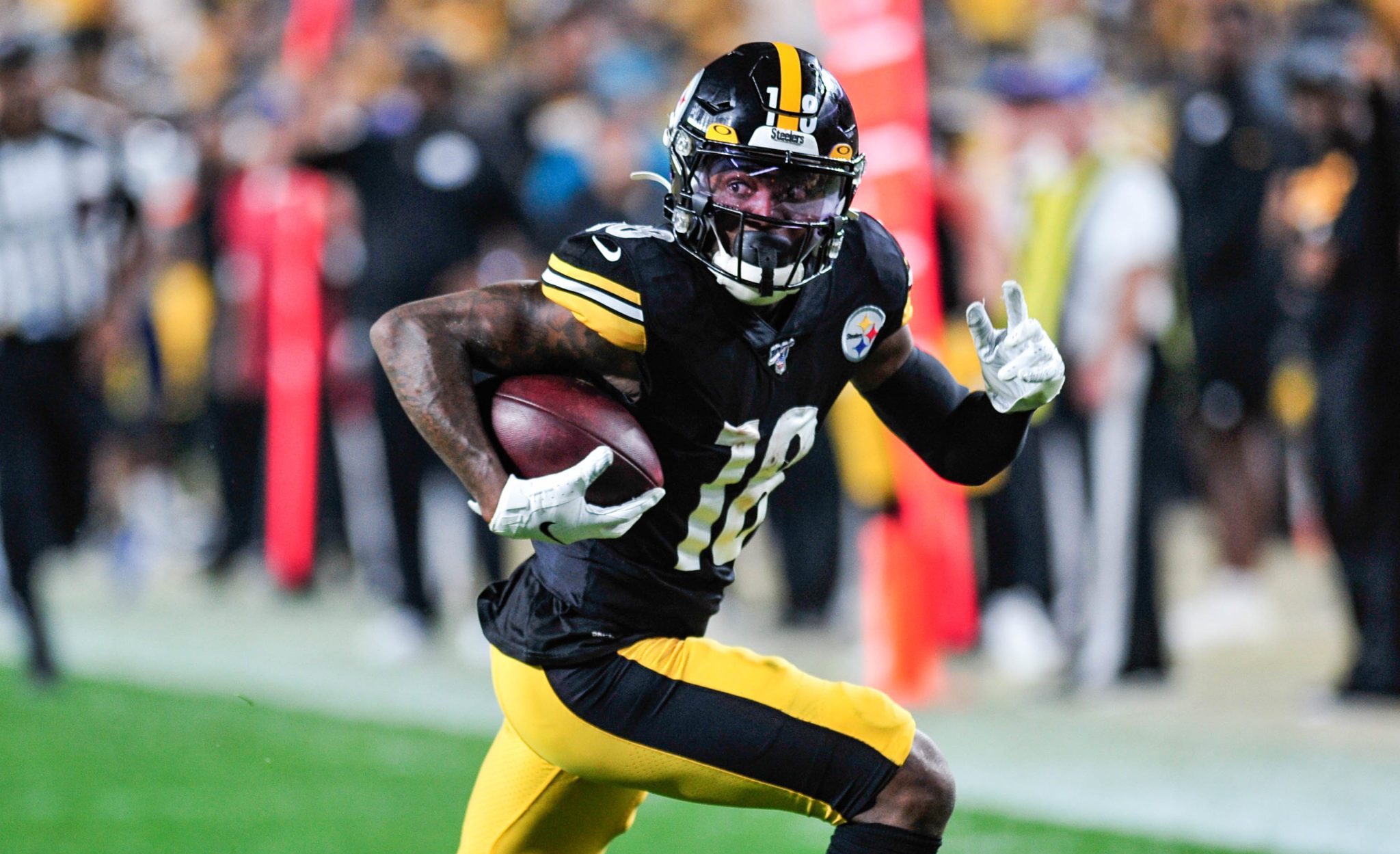 Photo by Parkey Hurley/Steelers Now
Round 9: Zack Moss – RB42, 126th overall
When you're drafting an RB this late, you are essentially limited to three options: handcuff, receiving back, or potential starter.
What's the difference between a handcuff and a potential starter, exactly? While both start the year behind someone on the depth chart, a handcuff is almost exclusively there in case of injury. They may get some more snaps in the 4th quarter when a game is decided, but that's not something you see all the time. A potential starter is someone who is competing for that starting role, usually a rookie or a new addition in free agency. When you draft this late, you want to take risks on some backfields.
Sure, guys like Latavius Murray can get you major value if their starter falls, but that's just it. There isn't any more potential than that. Getting a few amazing weeks can be great but you need to diversify. You don't only want handcuffs on your bench. Moss is far from guaranteed to be the starter at any point this year, but at least he has that shot. Guys like Moss and Dobbins might start late but win you your league if they can hold their value into the playoffs.
With a BMI of 32.9 (which ranks in the 93rd percentile according to PlayerProfiler.com), Moss has the physical characteristics of a top back. For comparison, Ezekiel Elliott's BMI is 30.5 and Derrick Henry's is 30.9. They drafted him in the third round to use him at some point, so you might as well take a stab on him in at least one of your leagues.
Round 10: Jonnu Smith – TE16, 129th overall
Maybe it's just a mirage, but it feels like there are so many serviceable TE options available later in drafts. I love guys like Blake Jarwin, Irv Smith, Chris Herndon, and Dallas Goedert. However, none have a better chance to truly break out than Jonnu Smith. The Titans' fourth-year player is as athletic as they come and when you want to find a true star this late, you bank on these types of guys. Volume is key for consistency over the years, something we should be concerned about with how often Tannehill threw, but for a year you can take a shot on the talent.
Despite playing alongside a former star in Delanie Walker, Smith was actually sixth in targets on the team in 2017 as a rookie and climbed to fifth in 2018 with the exact same target numbers. His next season, he only saw a slight increase, going from 30 to 44 targets and jumping to 4th in targets on the team. While he has been climbing slowly, why do I expect this year to be significantly different?
For starters, Walker is now gone, which takes away any competition at the position. The Titans also have over 100 vacated targets with Walker and others gone. While that doesn't rank too high, that was a significant portion of their total targets, since Ryan Tannehill didn't throw the ball a lot.
From week 1-6, Marcus Mariota was the starter, and Jonnu had a total of 8 targets, which was only 5% of Mariota's throws. From week 7 and on, he had 36, which was 12.6% of Tannehill's throws. While rookie RB Darrnyton Evans is likely to cut into those vacated targets, if Tannehill throws just a bit more, I could see Jonnu taking advantage.
Round 11: Antonio Gibson, RB45, 134th overall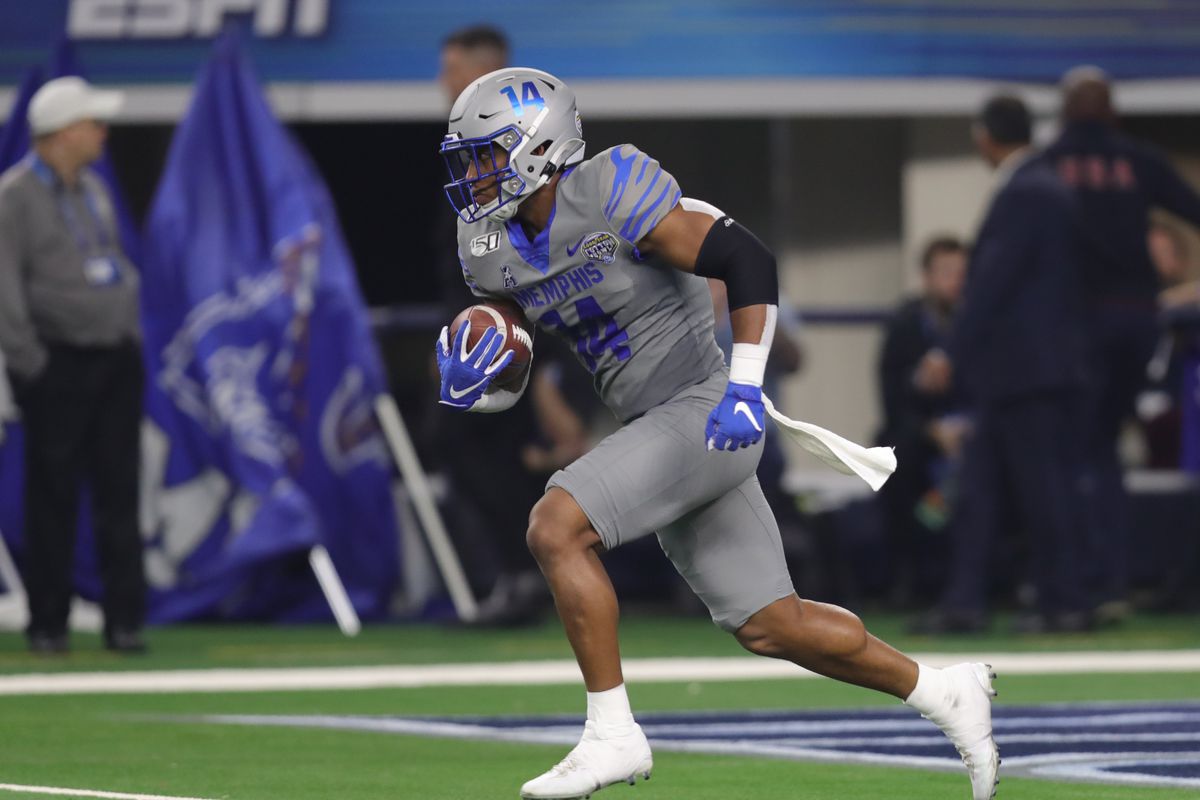 Photo by John Bunch/Icon Sportswire
Before the Derrius Guice news, Gibson was just wishful thinking. Now, he and teammate Bryce Love are some of the hottest players in the fantasy community. Still going undrafted in many leagues, these are the types of players you draft to win you a league. While Adrian Peterson is still there and producing, I think Gibson could be given a real shot. Injury may be the clearest path to success for him this year, though.
Known for his agility and speed, Gibson could play a lot like Alvin Kamara did. While I don't want to compare them in terms of talent, their abilities share some similarities. If you don't buy that, think of someone like Tarik Cohen, who was also touted as a "human cheat code". If you can get a player that probably will look like Cohen with the chance to produce like Kamara at RB45, you don't let that potential slide. Gibson is guaranteed nothing and is probably a better dynasty pick than redraft, but he's going to be given a chance to prove himself.
Round 12: Breshad Perriman – WR57, 147th overall
I don't necessarily think most leagues need to draft Perriman, but if you're looking for a great depth pick, look no further. On his fifth team since entering the league, Perriman might sound like a perennial waiver consideration rather than a legitimate fantasy starter. However, I have grown on him. Sam Darnold is looking for his next deep threat with the loss of Robby Anderson, and the former Buccaneer could prove to be an answer.
While the receiving room may look increasingly crowded, especially if Chris Herndon lives up to his hype, Perriman could set himself apart. Although it may seem at first that he's nothing more than a glorified all-or-nothing player, we caught glimpses of what he could become late last season. Under Jameis Winston, the receiver put together a string of impressive performances with Mike Evans out.
From weeks 13 to 16, Perriman had at least 5 targets, 3 receptions, and 70 receiving yards, while also combining for 5 touchdowns. From weeks 14 to 16, he had at least 5 receptions for 100 yards in each of them. While Jameis Winston was the league's passing yards leader, I think we can at least expect weeks similar to this to continue under Darnold. If he can get a consistent share of the targets, we could be looking at an explosive player on any given week (34.6 points in week 14) who could have a decent floor if he is fed the ball like we've seen. He's not going to be your starter for a while, but could be a sneaky flex play.
Round 13: Gardner Minshew II – QB22, 151st overall
Listen, I get it, QB is not as important as people lead you to believe. You want a great starter, but you could probably get away with streaming most weeks. If Minshew is available, so are guys like Cousins, Carr, Mayfield, and Garoppolo. What Minshew offers, though, is so much more.
Many expect the Jaguars to be the worst team in the NFL next year, and that's no thanks to the dismantling of their once elite defense. However, the Jags do have something of value: their offense.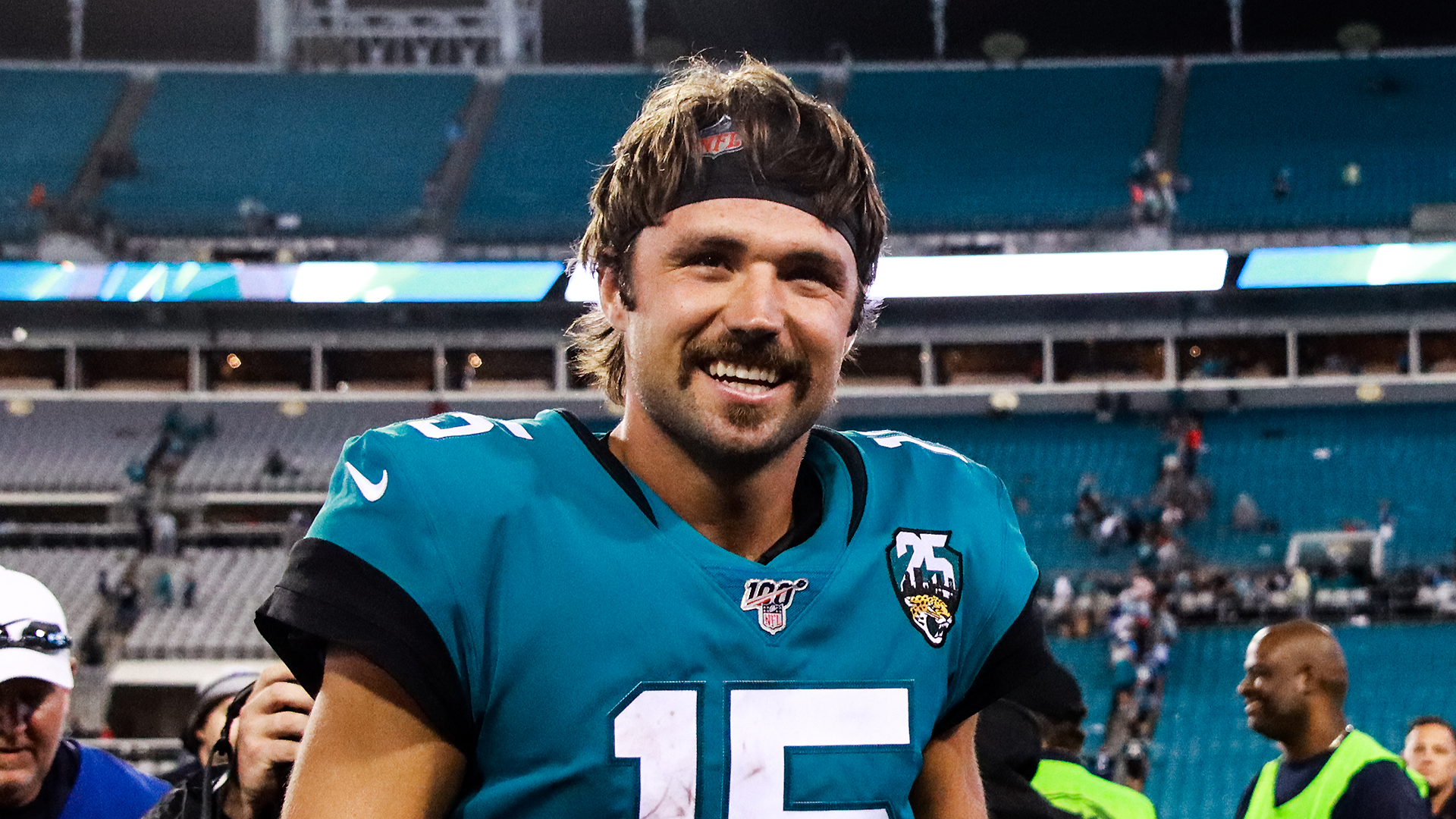 Photo by Getty Images
In a year where the team wasn't exactly noteworthy, the offense offered some value in fantasy football. D.J. Chark had 1,008 receiving yards and 8 TDs in only his second year, and the group behind him isn't anything to write off. Chris Conley, Dede Westbrook, Laviska Shenault, Tyler Eifert, and Leonard Fournette should prove to be an underrated receiving group that Gardner Minshew will command.
After being drafted in the 6th round, there was little reason to believe that he would start soon with former Super Bowl MVP Nick Foles in Jacksonville. However, Minshew ended up starting 12 games and put up more yards per game and passing TDs than rookie of the year Kyler Murray, while only throwing half as many interceptions. While Murray had 6 rushing TDs to Minshew's 0, Murray had 544 rushing yards on 93 attempts, and Minshew had 344 of 67. Heading into his second year, it's looking good for Minshew to put up better numbers. With the assumption that they'll be playing from behind a lot, Minshew could be a more consistent version of Jameis Winston last year. Far fewer turnovers, and maybe less yards, but always in passing mode with some nice rushing upside. Keep your eye out on him.
Round 14: Irv Smith Jr. – TE23, 173rd overall
Stefon Diggs and Kevin Stefanski are gone now, parting the seas and changing conferences.
For players like Dalvin Cook, that's a bummer. However, anyone drafting a Vikings pass-catcher has to be thrilled. Although the loss of Diggs puts more attention on Thielen, there is one guy I think is in an incredible situation now. Irv Smith Jr., like many tight ends this year, seems poised for a breakout. With so much alleged depth at the position, we need to separate the smoke from the truth. I truly think Irv will be a solid guy this year.
While the Vikings will still run it, the loss of a run-heavy OC bodes well for Smith, who had 47 targets as a rookie in 2019. Did you know that's only one more target than Kyle Rudolph had? Their overall numbers were fairly similar, with Rudolph catching a few more for a slightly higher average and a few more touchdowns. Stefanski admittedly likes to use two tight ends a lot in his offenses, but at some point the Vikings need to realize that Smith is closer to George Kittle than Rudolph is. With Diggs gone and Jefferson still learning, perhaps they will give the youngster a shot as their explosive receiving option.
The tight end position is historically brutal for rookies, and if Smith can improve his pass-protection, we could see him on the field much more often. Smith put up his numbers playing 200 fewer snaps. Rudolph played his fewest snaps in a 16-game season and his fewest snaps per game in his career in 2019. It's looking less likely that we see the 30-year old have a random breakout season now with the competition breathing down his neck. Irv is ready to show us what he's got this season, and I'm willing to bet he's at least a good enough TE2 with the potential to break into the top-12.
Round 15: Randall Cobb – WR70, 189th overall
Randall Cobb quietly put up over 800 receiving yards last year, despite teammates Amari Cooper and Michael Gallup posting 1,000+ yards each. Now on the Texans, Cobb has two oft-injured receivers in front of him in Brandin Cooks and Will Fuller. While I believe he can have some value on his own, he's probably nothing more than a decent flex play most weeks. If either goes down, though, Deshaun Watson needs to throw to someone. With little competition in the way, Cobb can be a guy you can stick in during bye weeks, tough matchups, and of course as a real starter if Fuller or Cooks miss time.