Note: These Over/Unders are in reference to the expected 162-game season. Should the amount of games in the season change, these lines will be adjusted, and therefore this article will also be updated. Check out our COVID-19 Tracker for more updates on the status of the season. All statistics courtesy of ESPN, Baseball-Reference, and Fangraphs
Atlanta Braves – Under 91.5 Wins
Notable Additions: Will Smith (SFG), Marcell Ozuna (STL), Cole Hamels (CHC), Travis d'Arnaud (TBR), Felix Hernandez (SEA)
Notable Subtractions: Josh Donaldson (MIN), Dallas Keuchel (CHW), Julio Teheran (LAA)
This Braves offense is still headlined by burgeoning stars, Ronald Acuña Jr. and Ozzie Albies. Freddie Freeman, Ender Inciarte, Nick Markakis, and the additions of Marcell Ozuna and Travis d'Arnaud round out the top offense in the NL East, and possibly the second best in the NL after the Dodgers. I believe that the 97-win campaign the Braves saw was a bit of an over-achievement and a more difficult path to the playoffs might give this roster a bit of an edge in the postseason.
The Braves signed Marcell Ozuna to a one-year, $18M deal this past offseason, as the natural replacement to Josh Donaldson. On the surface this seems like a good move, replacing one right-handed power hitter with another. This also allows young outfielder, Austin Riley, to move back to his more natural position at third base, splitting time with Johan Camargo. However, the production of Donaldson cannot be so easily replaced, as his 6.0 WAR (Wins Above Replacement) was the highest on the team. Donaldson provided great power to the lineup, and quietly had one of his best defensive seasons since playing for the Oakland Athletics back in 2014. A nagging shoulder injury in 2017 has led to the depletion of Marcell Ozuna's arm strength, and a drop in his power. His 2.5 WAR in 2019, hardly came close to Donaldson's production.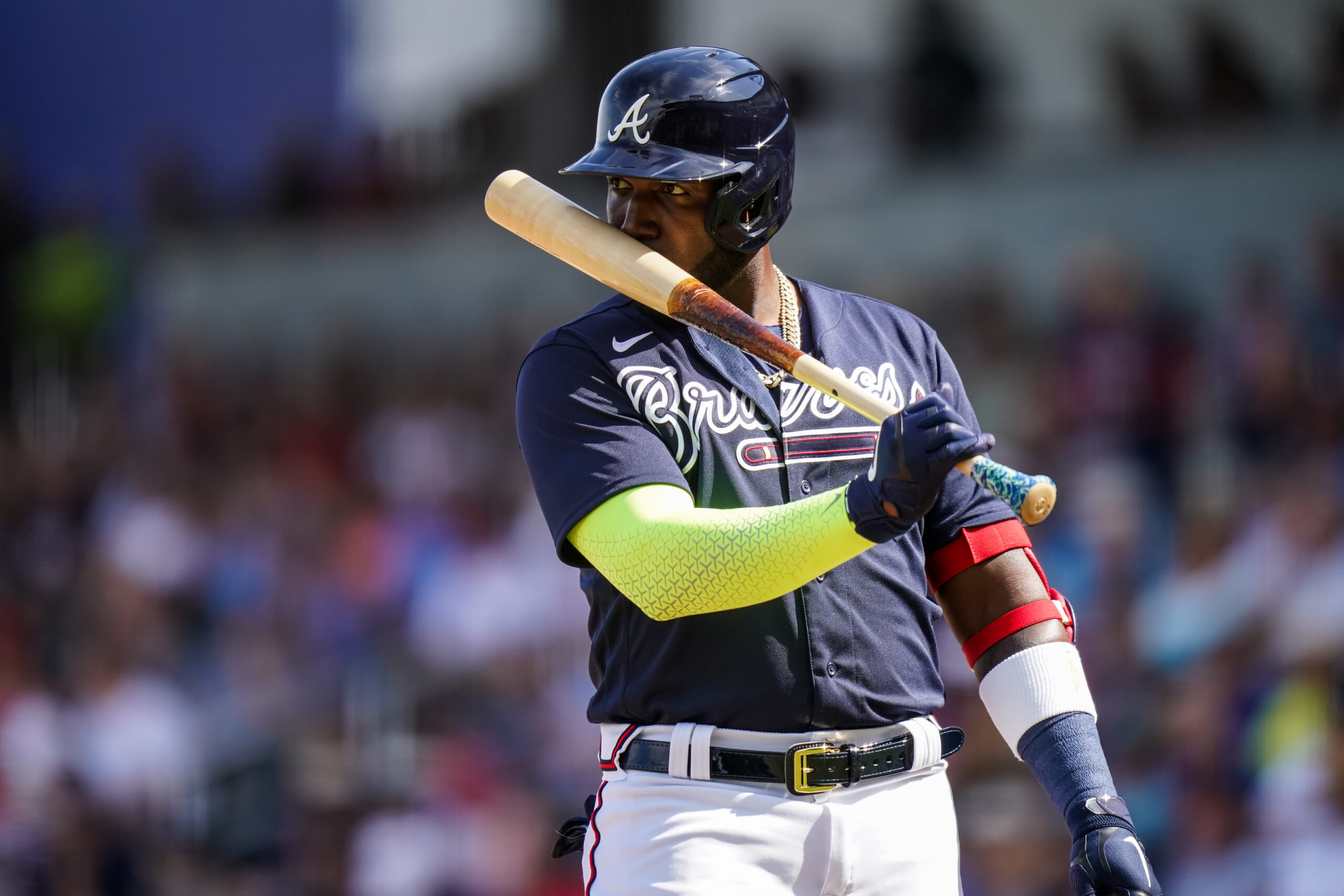 Ozuna struggled early in his first, very limited, Spring Training with the Braves.
(Photo by Brace Hemmelgarn/Minnesota Twins/Getty Images)
My main concern with this team is the pitching staff. Mike Soroka had a great 2019 campaign, but you should be weary in assuming he will only get better. The 2020 Braves rotation still has question marks, with young pitchers Max Fried, Sean Newcomb, Mike Foltynewicz, and Kyle Wright vying for starts. Free agent edition Cole Hamels was brought in to shore up this group, but the 36 year old's 2019 consisted of injuries, and an apparent lack of stuff. Felix Hernandez was given a NRI (Non-Roster Invite) and is also expected to be given an opportunity to make the final roster. "King" Felix finished 2019, 1-8 with a 6.40 ERA, struggling to crack 90 MPH on his fastball, and heavily relying on his sinker/change-up combination. Keuchel and Teheran were not winning Cy Young awards by any means, but both pitchers brought consistency to the middle of this rotation. Julio Teheran has pitched between 175 and 220 innings for the Braves over the past seven seasons, a rarity in today's game. I am very concerned with this new look, younger rotation, which will lack the workhorse Teheran was. To be frank, I am very concerned with any pitching rotation that Felix Hernandez has an opportunity of making.
The weakest part of the Braves 2019 roster was certainly its bullpen. The Braves bullpen was bottom third in the league in WAR. The Braves addressed this at the deadline, bringing in Mark Melancon, Shane Greene, and Chris Martin. These moves helped, but did not drastically improve their bullpen. In 2020, all these players will return, albeit in lesser roles, as the Braves won the gem of the offseason reliever market, signing Will Smith to a three-year, $40M deal. Even with that improvement, I cannot place my faith in this bullpen, especially because I am projecting an uptick in innings pitched, due to the changes in the rotation. This is an immensely talented team that has a bright future ahead of them. In order to come close to matching last year's win production, the Braves are asking too many of their young players to step-up, and will still likely need to dip into their very deep organization to make additions at the trade deadline. The Braves also need to contend with the rapidly improving NL East. Any improvement to the Miami Marlins, (ATL went 15-4 against them in 2019), will severely hurt the Braves' chances of eclipsing 91 wins.
Arizona Diamondbacks – Over 84.5 Wins
Notable Additions: Madison Bumgarner (SFG), Starling Marte (Trade/PIT), Kole Calhoun (LAA), Hector Rondon (CHW)
Notable Subtractions: Yoshihisa Hirano (SEA), Taijuan Walker (SEA), Alex Avila (MIN)
Imagine you are a San Francisco Giants fan. Your clearly rebuilding team, does not trade its only hero left standing from a storied run between 2010-2014. You then find out, that this hero will sign with a division rival over the winter…and it's not the Dodgers…
Enter the 2020 Arizona Diamondbacks. The D-Backs flirted with playoff contention in 2019, finishing 85-77, 4 games back of the second wild card. Arizona is being asked to take an improved roster to the exact same record as the previous year. Count me in.
Madison Bumgarner provides an immediate upgrade over the Diamondbacks previous rotation, validating the team's decision to deal ace Zack Greinke at the deadline. Arizona also decided to hold onto starter Robbie Ray, with many critics wondering how he would fair as the team's ace. Although Ray had a solid 2019, (12-8, 4.34 ERA), he is better suited in the middle of the rotation. Zac Gallen, Merrill Kelly, Alex Young, and Luke Weaver are all young pitchers, looking to prove themselves this year. I am especially high on Zac Gallen. The D-Backs paid a steep price to acquire him from the Marlins, (Jazz Chisholm, now Marlins #4 prospect), but in 2020 he will show his value.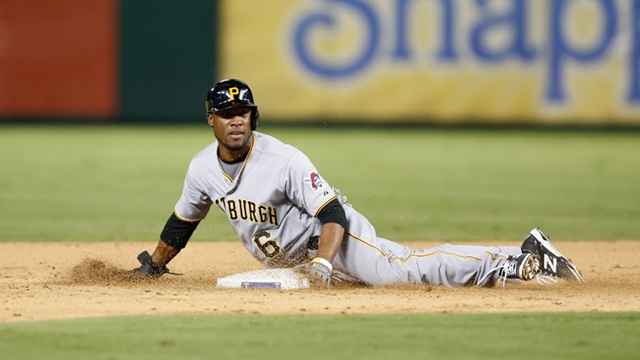 Diamondbacks get a steal! Arizona traded two low-level prospects and 250K in international pool spending money to acquire Marte.

The Diamondbacks have an extremely balanced lineup, featuring switch hitter Ketel Marte, re-signed left-fielder David Peralta, and newly acquired center fielder, Starling Marte. Players like Christian Walker and Eduardo Escobar provide solid power numbers, both in the home run and doubles departments. Shortstop Nick Ahmed, is quietly one of the best defenders at the position. He has posted a 20.0 dWAR over the past two seasons, and he is projected to become a net positive offensive player in 2020. Over the course of his career, Ahmed has had an increasing walk rate, paired with a decreasing strikeout rate, especially in the last three years. Last season, Ahmed's OBP was also on the rise, finally cracking .310 in 2019. By traditional numbers, Ahmed hit 19 HRs and knocked in 82 RBI. If Ahmed continues his progression in terms of offensive metrics, the Diamondbacks will see him grow from a 2.5 WAR, defensive specialist, to a 3.5-4.0 WAR, all around talent.
The Diamondbacks' main concern for this season is their bullpen, and their relative lack of depth in their pitching staff. The 2019 Greg Holland experiment did not go well, so Arizona is likely to hand the closer role back to Archie Bradley. Kevin Ginkel and Yoan Lopez are young, interesting pieces to this bullpen, but the D-Backs are going to need consistent production from them, as well as, new additions Hector Rondon and Junior Guerra. Arizona is my dark horse pick to win the second wild card spot this year, as I believe their combination of veterans and young players will mesh well and continue to improve on last year's figure. Aside from the Dodgers, the Diamondbacks are competing in a fairly weak NL West. They may be able to get away with some of their pitching flaws, better than a team like the Braves can. Don't be disheartened by a slow start, as Arizona will be relying on key, new players, to get acclimated to their ballpark. An additional starter and bullpen piece, acquired via trade at the deadline, would seal the deal for me, on punching the Arizona Diamondbacks a ticket to the postseason.
Colorado Rockies – Under 73.5 Wins
Notable Additions: None
Notable Subtractions: Chad Bettis (I guess)
If I told you, in 2018, that the 2020 Colorado Rockies starting rotation would consist of: German Marquez, Jon Gray, Kyle Freeland, Antonio Senzatela, and Chi Chi Gonzalez/Jeff Hoffman, you might be really excited. The reality of 2020 is not an unfamiliar one for Rockies fans. Their starting pitching in 2019 was dead last in ERA, and their bullpen was second to only the lowly Orioles. Coors Field does not account for all, or even most of this problem, as Rockies pitchers were still 6th worst in the league in walk rate, and were bottom ten in ERA+ (which adjusts for ballpark factors).
The other dark cloud surrounding this team is the uncertainty surrounding the future of 29-year old, superstar third-baseman, Nolan Arenado. It is rare that you say things like that shortly after a player signs an extremely rich, long-term extension, yet Arenado can never separate his name from trade rumors. The Rockies have a multitude of offensive studs, such as Trevor Story, David Dahl, and upcoming players, Ryan McMahon, Garrett Hampson, and Brendan Rodgers. The Ian Desmond/CF/1B experiment has failed horribly, and Daniel Murphy cannot stay on the field long enough for his contract to be close to worth it. The Rockies are also stuck in a long term deal with Charlie Blackmon, that will start to look like a very poor decision in the next season or two. Blackmon signed the extension on the heels of his best season to date, slashing .331/.399/.601 (AVG/OBP/SLG), 37 HRs, 137 RBI and a 6.6 WAR in 2017. Those numbers are extremely impressive, but Blackmon's production has cooled tremendously, as his two-season combined WAR of 4.8, is way off from his 2017 production. Although he was once regarded as an above average defender, advanced metrics rank him as average or slightly worse during his best production years, and since 2018, he has become a major liability.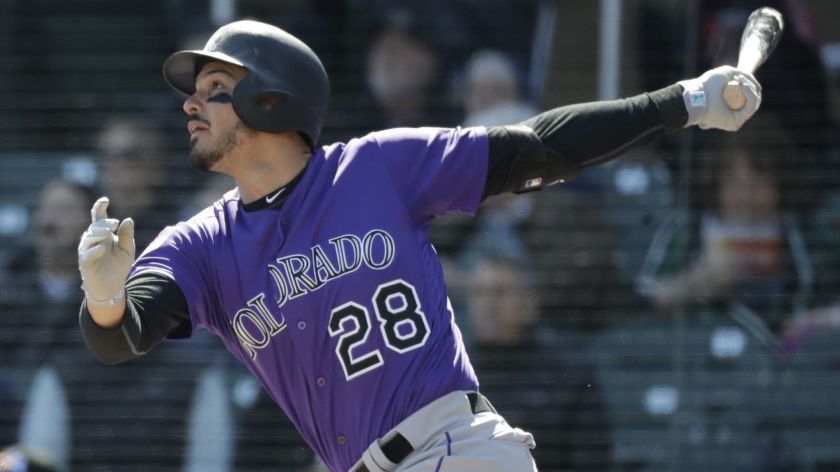 Nolan Arenado, 3B, has become one of baseball's top-five all around players, but has not been able to find much team success in Colorado.
(Photo by Chris Carlson / Associated Press)
It appears that many of Colorado's once promising young starters, are simply not panning out (Antonio Senzatela/Jeff Hoffman) and others have taken major steps back in their career due to injury and/or ineffectiveness (Jon Gray/Kyle Freeland). The Rockies are also stuck with one of the worst reliever trios in baseball, with Bryan Shaw, Jake McGhee, and Wade Davis all in the final years of multi-year contracts. Those three had 5.65, 4.35, and 8.65 ERA's in 2019, respectively. Scott Oberg and Carlos Estevez are potential bright spots in an otherwise dreadful Rockies bullpen.
After a 71-91 campaign in 2019, it is very difficult for me to see any kind of improvement in this Rockies roster. They made zero significant moves this offseason, many of their once top prospects are not panning out, meanwhile, large pieces of their roster are aging and regressing. And we're asking them to make a 3-win improvement? No thank you.
St. Louis Cardinals – Under 87.5 Wins
Notable Additions: None
Notable Subtractions: Marcell Ozuna (ATL), Michael Wacha (NYM)
The 2019 Cardinals were one of the most exciting teams to watch down the stretch, as the NL Central crown came down to the wire. The Cardinals won an intense NLDS series 3-2 against the Braves, before getting swept by the eventual World Series Champion Nationals, in the NLCS. The Cardinals are a world class organization, known for fielding consistent teams, throughout all circumstances.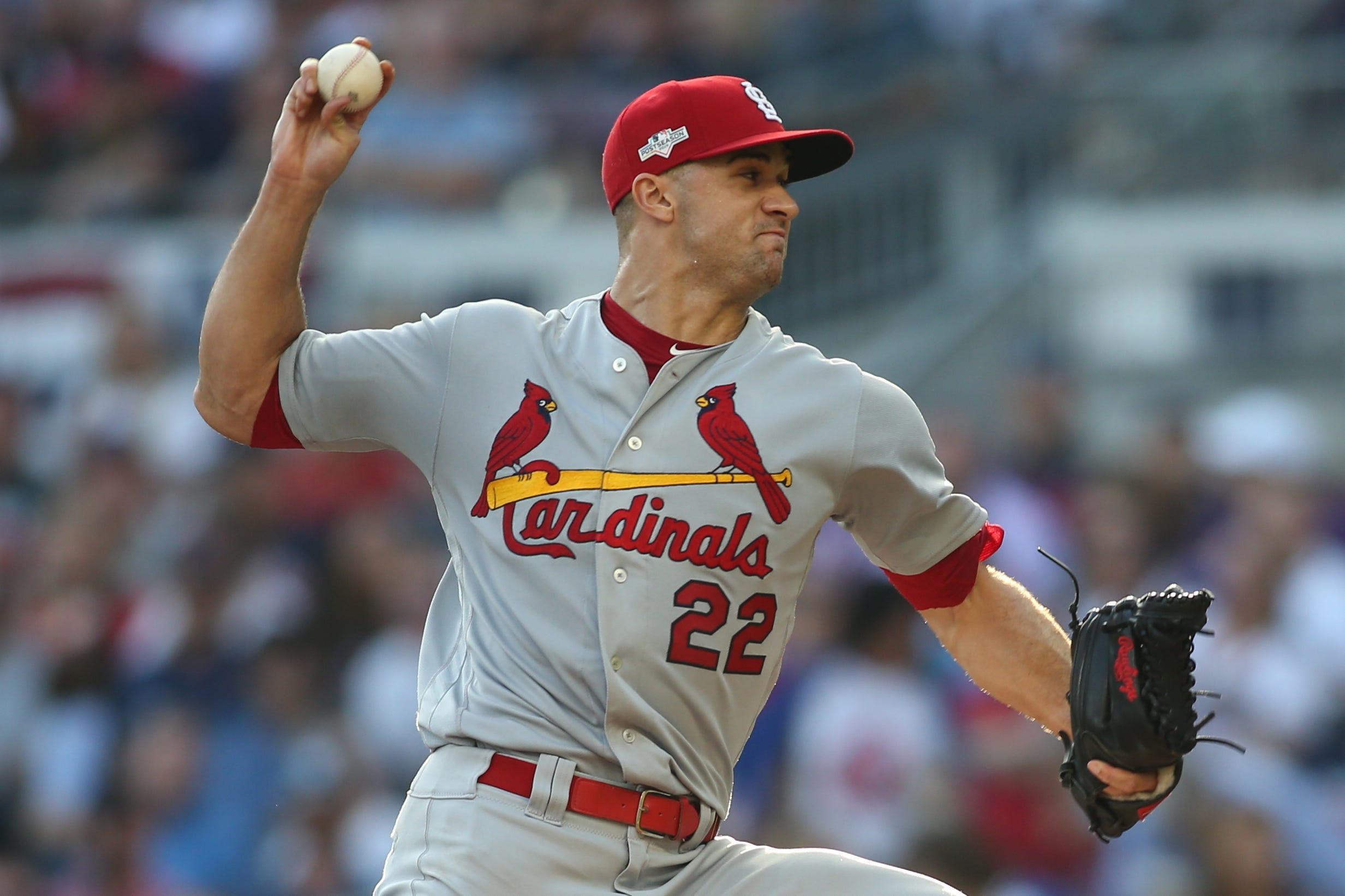 Jack Flaherty, SP, finished 4th in Cy Young award voting, pacing the league across all major pitching categories.
(Photo by Brett Davis/USA Today Sports)
The emergence of Jack Flaherty caught the eye of Major League Baseball, as his 11-8, 2.75 ERA, 5.8 WAR season was good enough for 4th in the NL Cy Young voting. Flaherty also finished with a WHIP under 1.00, at 0.968, the best mark in the league. I am certain that the 24-year old Flaherty will put up another strong season, but it is unrealistic to project similar or better numbers. Flaherty pitched 196.1 innings last season, only his second full season, (he pitched 151 innings in only 5 fewer starts in 2018). After Flaherty, however, the Cardinals rotation is not as solid. Miles Mikolas and especially Adam Wainwright are not the pitchers they once were. The Cardinals pitching staff screams inconsistency, by the means of Carlos Martinez and Andrew Miller. Both pitchers have electric stuff, but have not put together whole, consistent seasons for the Cardinals. Stud pitchers Alex Reyes and Jordan Hicks can't seem to stay healthy long enough to realize their immense potential. The Cardinals bullpen is rounded out by very solid pitchers, Giovanny Gallegos, Ryan Helsley, John Brebbia, and John Gant, who can easily be one of the better bullpens in the National League. However, the lack of track record and consistency, warrants an overly cautious approach on lofty expectations.
St. Louis has a solid offense, headlined by Paul Goldschmidt and Paul DeJong, although they will need young players Tommy Edman, Harrison Bader, and Tyler O'Neill to ramp up their production to make a deeper run in the postseason. I believe that once again, there will be a high level of parity in the NL Central, with the improved Cincinnati Reds coming into the fold, (the Cardinals went 12-7 against CIN last season). The NL Central is a tough division to call, as the Cubs could be due for regression, and the Reds for improvement. That leaves the Brewers, with a healthy Christian Yelich, willing the team to another potential wild card race. I have not seen the Cardinals make any significant improvement to this roster in the offseason, opting rather, to attempt capitalizing on their young talent, and hoping that they continue to perform. I'm not interested in taking too many chances in this division, I will rather look to short the overachieving Cardinals.