First the NFL draft and now the official schedule has been revealed; the league just keeps winning.
Both events have marked major progress points as the season approaches, but never have they been more important than this year. We have been scraping the bottom of the barrel for even an ounce of sports goodness and nothing riles people up like speculation. You never know how a team will look from season to season, even if they seemingly 'won' the draft or offseason. Things happen and not every player is a good fit. Injuries can take away star players and move teams from contenders to pretenders. The NFL schedule can suffer the same fate, but when there are months of effort put into making this 256 game stretch, we can only put our trust into the hands of the schedule makers.
I decided not to put any reunion games in this list, since there will be so many and they aren't always entertaining, outside of major QB moves. If there happens to be a reunion in the games I mention, they're not on the list for that reason. They are already going to be interesting games on their own. You won't see OBJ vs. the Giants, Teddy Bridgewater vs. the Saints, or Jimmy Garoppolo vs. the Pats on this list, though I'm sure they will be hyped up as the season gets closer.
The Rivalry Games
BAL @ PIT – Thursday, November 26th 8:20 PM
Aside from being a gritty rivalry, the Steelers and Ravens have had two nail-biters on holidays this decade, and that won't end soon. Thanksgiving night 2013, the Steelers scored with a minute left in the game, but failed the tying two-point conversion and lost 22-20. Christmas 2016, Antonio Brown made a miracle extension while being tackled by what seemed to be the entire Ravens defense to put away the game and beat Baltimore 31-27. These teams get heated when they match up and the streak of great holiday games should continue.
ARI @ SF – Sunday, September 13th 4:25 PM
Perhaps this isn't the biggest rivalry in the NFC West, but the rise of these two teams has been tremendous. There are three combined superbowl appearances between these teams this century, so they are no stranger to building a successful roster. The 49ers have had recent success both in general and against the Cardinals, but don't forget that they only beat them by 3 and 10 points respectively in their two games last season. While I don't think Arizona has done enough on the defensive side of the ball, San Francisco will have their hands full with Kyler Murray and his new playmaker in DeAndre Hopkins. It's going to be a tough matchup against Richard Sherman and the Niners defense, but I think these teams will keep it close Week 1.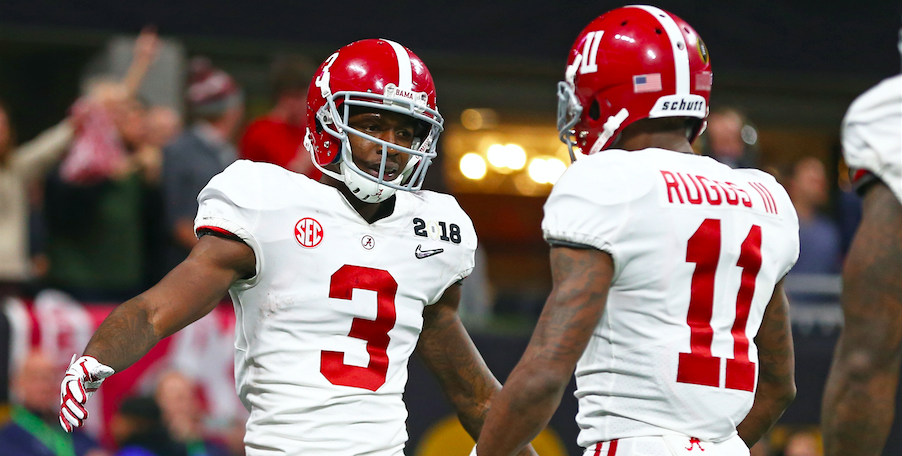 The Broncos and Raiders split their season series last year. This year, first-round wide receivers Jerry Juedy (left) and Henry Ruggs (right) will face off in new colors.
(Photo by Mark J. Ribolas/USA Today Sports)
DEN @ LV – Sunday, November 15th 4:05 PM
Oh, sorry, you don't recognize those initials? This is the first year an NFL game will be played in Las Vegas and we will have to see if the Raiders can attract a serious enough fan-base to come anywhere near contending with the Black Hole in Oakland. The AFC West divisional matchups are so underrated and I look forward to watching them every season. Just last year, these teams started and ended their season with one score home victories, and the Broncos only won by one point in week 17. Make no mistake, this won't be an easy game, as the Broncos' offense has high expectations and the Raiders have two emerging stars in RB Josh Jacobs and TE Darren Waller. Both teams took the top pair of Alabama wide receivers in the first round of the draft this year. Let's see if either makes an impact in this game.
The Revenge Games
HOU @ KC – Thursday, September 10th 8:20 PM
The defending champions will host a team who almost played spoiler to their season. In the regular season, the Texans won the week 6 showdown as Deshaun Watson snuck into the endzone for the only 4th-quarter score of the game. In the divisional round of the playoffs, the Texans were up 24-0 in the second quarter before Patrick Mahomes unleashed an attack that would leave the Texans stunned with a 51-31 loss. Both QBs are first rounders from the same draft and lead some of the best offenses in the league. Their defenses feature stars like JJ Watt and Tyrann Mathieu. After tying this series 1-1, we will be eager to see who will take the first victory of the 2020 NFL season.
TEN @ BAL – Thursday, November 22nd 1:00 PM
You might think that this Titans team is overrated and had a lucky run and that the Ravens have only improved this offseason. Whatever you think, both teams will have this game circled on their calendar. The Titans left the Ravens looking silly in the playoffs, sneaking in as the 6th seed and knocking off the 14-2 #1 seed by a score of 28-12. The Titans did all of this while only throwing for 83 yards. After taking OT Isaiah Wilson in the first round of the draft, the Titans are looking to help Tannehill's sack issue and open more holes for Derrick Henry. Can MVP Lamar Jackson rebound this time?
KC @ BAL – Monday, September 28th 8:15 PM
Are you tired of seeing these two teams on this list? Why not both at the same time? I just couldn't keep them out of here and if I could I might just put half of their schedules up here. Patrick Mahomes and Lamar Jackson are defining the new era of football and this has to be the next best QB rivalry in the AFC (maybe even the entire NFL). The Chiefs have won this matchup twice, but only by one score each time. This is must-see football, the kind that you'll be telling your kids about.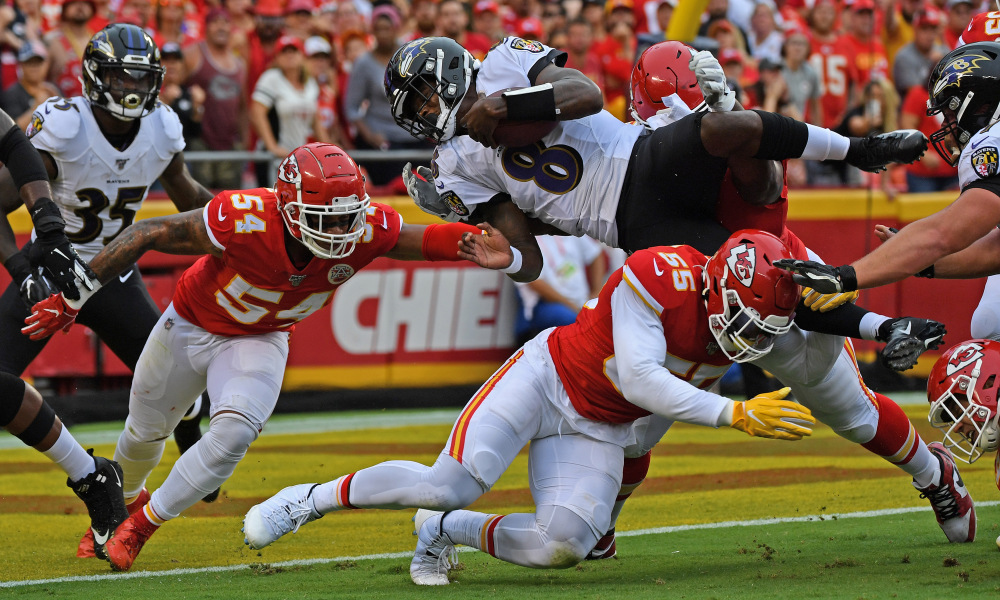 The Ravens and their fans are highly anticipating this matchup after losing to the Chiefs in Week 3 and failing to reach the AFC Championship game.
(Photo by Peter Aiken/Getty Images)
The Rest of the Best
TB @ NO – Sunday, September 13th 4:25 PM
The biggest story of the offseason has undoubtedly been Tom Brady leaving the Patriots for Tampa Bay. Twice this season, we get to see the two oldest QBs in the NFL go at it, as they try to add one more to the trophy case that already includes impressive accolades. Brady will lead an offense the likes of which we haven't seen in years and Brees gets to return to a stacked and balanced team. Seeing these two veterans go at it may outshine the primetime games Week 1. Do I really need to sell you any more on this legendary matchup?
DAL @ PHI – Sunday, November 1st 8:20 PM
Should this have been listed as a rivalry game? Yes. Did I want to include it while keeping the sets of three games in each category while also making Cowboys fans think I wouldn't include them on this list? Bingo. Notorious for its competitiveness, this division will never be a lock, and hasn't had a repeat winner since 2004. While it looks like a two team race this year, it's hard to pick who can pull it off. The two matchups between the Cowboys and the Eagles will make a major impact, not only affecting overall records, but the important head-to-head and divisional wins that can barely squeeze a team into the playoffs. With the expanded playoff format, we could see both of these teams make it, but the real prize is the division. The Eagles had a sneakily impressive offseason, and I think Dallas needs to be ready in this Sunday Night Football showdown.
GB @ SF – Thursday, November 5th 8:20 PM
As good as the AFC has been getting, the best competition still lies in the NFC. While the 49ers blew out the Packers twice this season, including a 37-20 win carried by Raheem Mostert's 200 rushing yards in the NFC title game, Aaron Rodgers is still there. The Packers may be the laughing stock of the draft, but they're still one of the best teams in the NFL. Any game featuring these two teams will garner attention, but under the lights in prime time, maybe Rodgers can reach into his bag of tricks and win.
Before you get angry that I didn't include (insert popular or up-and-coming team here), just remember that this is not a definitive list. These aren't guaranteed to be competitive games, and I know both historic franchises and young teams are exciting. I couldn't fit every game, and I wanted to include a lot more. These are just the key games to note heading into the season, along with a sprinkling of some less obvious ones. At the end of the day, we just want to see our sports back, and I can't wait to watch this season.