Nippon Professional Baseball (NPB) is here! Known as Puro Yakyū in Japan, the delayed season kicked off on June 19th. The NPB has done a great job trying to get in as much baseball as possible this summer for their loving fans. Normally, the NPB plays 143 games, six days a week, with Mondays off. The organization is divided into two leagues: The Pacific and The Central League. In each league there are six teams, with three of them making the playoffs. Each league's playoffs are called the "Climax Series" where the winner is crowned the champion of the league (essentially a pennant). The winners of the Climax Series then play each other in the Japan Series, which determines the champion of the NPB. 
Rosters are also different in Japan. Each team has, at most, 70 members on it, 28 of which are on the top team (ichi-gun). This is similar to a 40-man roster in the MLB. The other members of the team make-up the ni-gun, which is essentially Japan's minor league system. These teams play shortened seasons in the Eastern and Western Leagues. For each game, NPB managers carry 28 players, 25 of which are active. The other 3 players are ineligible to enter the game. These spots are usually reserved for pitchers who threw the day before. These rotating spots are what allow for Japan's trademark 6-man rotation, where starters throw once a week.
In 2020, the 12 teams will play 120 games without any interleague play. The Central League has elected not to play a "Climax Series" this year, so the team with the most wins will meet the winner of the Pacific League's Climax Series in the Japan Series. With the MLB seemingly taking steps backwards in a return-to-play plan, the NPB provides the second highest quality baseball in the world.
Here you will find a power ranking for each NPB team heading into the 2020 season. A score was given for each aspect of the teams (Position Players/Pitching) where the composite score determined their ranking.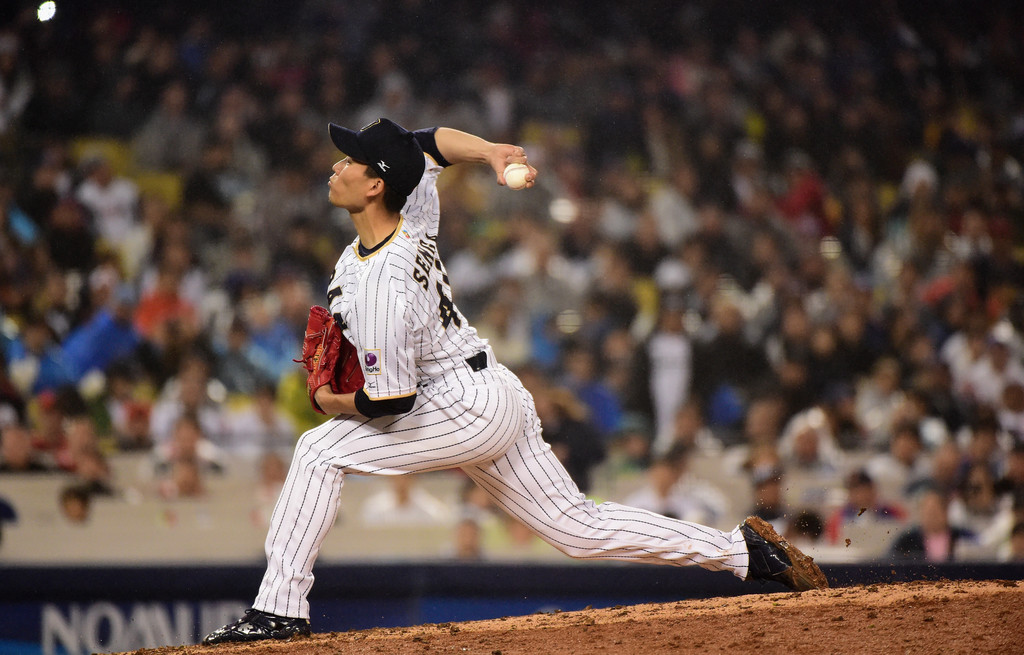 Kodai Senga, Fukuoka SoftBank Hawks, is regarded as one of the best pitchers in the NPB.
(Photo by Harry How/Getty Images)
1. Fukuoka SoftBank Hawks, 2019 Record (76-62-5)
Former MLB Players: Wladimir Balentien, Dennis Sarfate, Matt Moore, Tsuyoshi Wada, Rick van den Hurk
Position Players: (9/10)
Although they never made it to the major league level in the United States, Cuban-born Alfredo Despaigne and Yurisbel Gracial are very dangerous hitters in Japan. Despaigne, especially, is one of the biggest power hitters in the league. The Hawks also signed Wladmir Balentien, a former Central League MVP, HR King, and 6x All-Star in December. The Hawks led the league in home-runs last season and Balentien will only add to the league leading total. 9x All-Star Nobuhiro Matsuda is still churning at age 37, as well as former MVP Yuki Yanagita coming back from injury.

The Hawks defense was one of the best in 2019. Matsuda won his seventh straight Golden Glove, with 1B Seiichi Uchikawa and C Takuya Kai winning their first awards. Keeping Despaigne at DH is huge for the team's defense. Aging stars, and power hitting players might be a recipe for defensive regression for the 2020 Hawks.
Pitching: (9/10)
Unfortunately, the Hawks will be without ace, Kodai Senga, for the beginning of the year. Senga went 13-8, with a 2.79 ERA and 11.3 K/9 in 2019 and is regarded as the best pitcher in the league. The Hawks will look to continue to capitalize on his success before his inevitable move to the MLB. The Hawks pitching staff has an effective combination of Japanese nationals and foreign imports. SP Rei Takahashi and CP Yuito Mori are two of the best young pitchers in the league. The Hawks get meaningful innings out of players like Ariel Mirana, Tsuyoshi Wada and Livan Moinelo. They will also be getting back 2017 MVP Dennis Sarfate in their bullpen. He might not return to the closer role, but the world is curious to see how the 39-year old rebounds from elbow surgery. Former Tampa Bay Ray, Matt Moore made a curious move to go to Japan, but should be an effective piece for the Hawks
Overall: (18/20)
The reigning Japan Series Champions will look to continue their recent run of 3-straight championships and 5 since 2014. They have only made improvements to last year's championship squad and for that reason sit atop the rankings in 2020.
2. Yomiuri Giants, 2019 Record (77-64-2)
Former MLB Players: Hisashi Iwakuma, Gerardo Parra, Rubby de La Rosa, Angel Sanchez, Thyago Vieria
Position Players: (9/10)
The Giants have one of the most prolific offenses in the NPB. Star SS Hayato Sakamoto elevated his game to a new level in 2019, hitting 40 HRs and 94 RBI. He had a slash line of .312/.396/.575. It is probable to see a slight regression in Sakamoto's power numbers, but the talent is undeniable. Kazuma Okamoto and Yoshihiro Maru both contributed over 25 HRs and 90 RBI. The Giants were the only team in the Central League that had a team slugging percentage above .400. The Giants also added 2019 World Series Champion Gerado Parra to the roster, to provide some more balanced hitting and veteran leadership to the historic team. 

On the defensive side, Maru and Sakamoto both have multiple Gold Gloves in their career and the Giants look to pace the league as one of the better defensive teams, overall. 
Pitching: (8/10)
The Giants have an above average pitching staff, headlined by 2014 MVP and 2017 Pitcher of the year Tomoyuki Sugano. Sugano was 11-6 with a 3.89 ERA in 22 starts in 2019. Although solid, the Giants will need him to return to his ace status to replace Shun Yamaguchi who signed with the Toronto Blue Jays. Dominican-imports CC Mercedes and Angel Sanchez are important pieces to this rotation. Former Golden Eagle and Seattle Mariner Hisashi Iwakuma is also expected to have strong consideration to make this 6-man rotation.

Yomiuri's bullpen is one of the better ones in the league featuring Closer Kota Nakagawa and Hirokazu Sawamura. Former White Sox flamethrower Thyago Vieria joins the team, looking to bolster an already solid bullpen along with former top prospect Rubby de la Rosa. Shun Yamaguchi is a big hole to fill for this team and that leaves them without a higher score.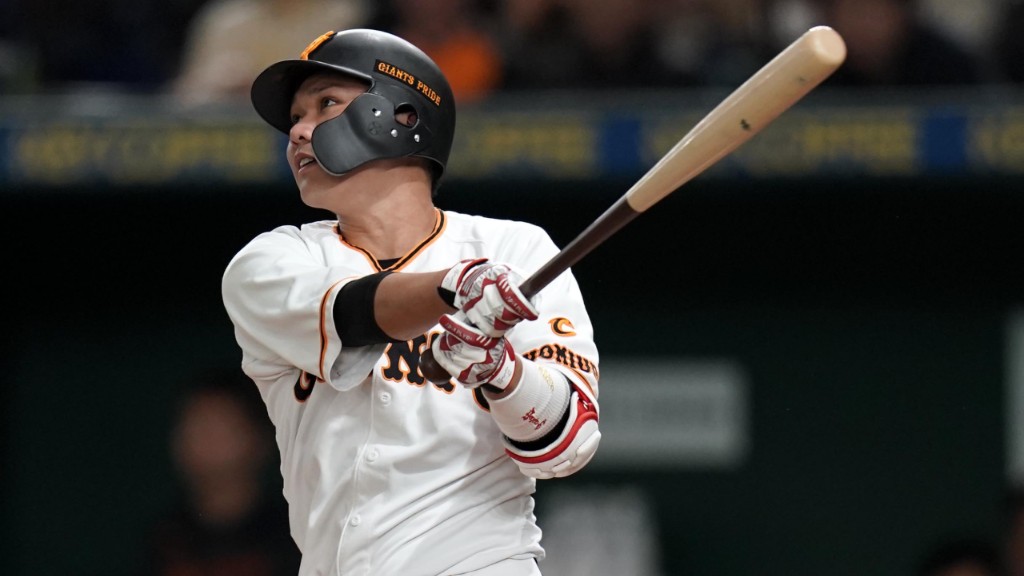 Hayato Sakamoto, Yomiuri Giants, hit a career high 40 homr runs in 2019.
Photo by Alex Tratwig/Getty Images
Overall: (17/20)
"The Yankees of Japan" are poised to once again win the NPB's Central Division. If their offense takes a step back, without their pitching taking a step forward, they might be in trouble in 2020. They will face stiff competition in the Central League and still do not seem to have enough to defeat Fukuoka in a potential Japan Series rematch.
3. Saitama Seibu Lions, 2019 Record (80-62-1)
Former MLB Players: Daisuke Matsuzaka, Zach Neal, Cory Spangenberg, Reed Garrett
Position Players: (9/10)
The Seibu Lions feature one of the best overall lineups in the NPB. The team relies on power from stocky 1B Hotaka Yamakawa, who has hit 90 HRs in the past two seasons. He looks to capitalize on one of his best seasons to date, where he hit 43 HR, 120 RBI, and slugged .540. Yamakawa, 2B Shuta Tonosaki (26 HR, 90 RBI), and 3B Takeya Nakamura (30 HR, 123 RBI) make up one of the most feared infields in the NPB. The Lions also have the best Catcher in the NPB in 2019 Pacific League MVP, Tomoya Mori. He slashed .320/.413/.547 in 2019 and was top five in the league in batting average, RBI, and doubles. The only thing keeping the Lions from a perfect offensive score is the loss of star outfielder Shogo Akiyama. Akiyama was one of the best overall players on the team before leaving to sign with the Cincinnati Reds.

Stacking a lineup with laboring power hitters is not a recipe for a great defense. In 2019, the Lions committed the most errors and had the lowest fielding percentage in the Pacific League. The loss of Shogo Akiyama hurts them on defense tremendously, as he had won two golden gloves in a row. The Lions are lucky to have defensive anchor and two-time Golden Glove winner Sosuke Genda playing up the middle for them.
Pitching: (6/10)
Zach Neal was great in 2019, but it is yet to be seen if he can repeat his success in 2020. Seibu has good young pitching in their rotation (Tatsuya Imai, Wataru Matsumoto) but they both sport walk rates (BB/9) approaching 5. They do have two extremely solid bullpen pieces in Tatsushi Masuda and Ryuya Ogawa. Masuda has a sub-one WHIP in 2019, to go along with a 1.81 ERA and 9.6 K/9. A deeper look into this staff warrants many concerns. The Lions' pitchers have the second highest AVG-Against in the league and ranked dead last in Fielding Independent Pitching (FIP), a stat used for measuring pitcher's effectiveness without outcomes that include fielders.
Overall: (15/20)
Seibu is one of the most exciting teams to watch offensively, but defensive and pitching problems could be their undoing in 2020. If their record offense cannot repeat itself, they are surely due for regression.
4. Tohoku Rakuten Golden Eagles, 2019 Record (71-68-4)
Former MLB Players: Jabari Blash, Zealous Wheeler, Stefen Romero, Alan Busenitz, Kazuhisa Makita, JT Chargois
Position Players: (7/10)
The Golden Eagles are a team that relies heavily on a few high-level hitters to score runs. American import Jabari Blash and Infielder Hideto Asamura both hit over 30 HRs and drove in over 90 runs. After very brief stints with the Brewers and the Yankees, Zealous Wheeler has successfully transitioned over to the NPB where he has much more pop in his swing. Stefen Romero is another solid offensive piece to come over from the Orix Buffaloes. The Golden Eagles have a few talented fielders to round out this team including Ryosuka Tatsumi and Hiroaki Shimauchi.
Pitching: (7/10)
The pitching staff is headlined by 29-year old pitchers Wataru Karashima and Ryota Ishibashi. Both pitchers were solid in 2019, but it seems like Karashima had a bit of a down year. If Karashima can return to his 2017 form, the Eagles will have what this rotation is lacking, a true ace. The saving grace of this pitching staff is their bullpen. Yuki Matsui is probably the best closer in the league with 38 Saves, a 0.92 WHIP and the second-best K/9 among qualified relievers at 13.8. Matsui, Alan Busenitz, and Kohei Morihara all had sub-2.00 ERAs. Better starting pitching will bring this team to another level.
Overall: (14/20)
The Golden Eagles are a solid NPB team, heavily reliant on a few big hitters. If their bullpen stays in top form, they are a starter away from being a much better team. If Karashima or Ishibashi can take a big step forward from 2019, this team will jump up in the rankings.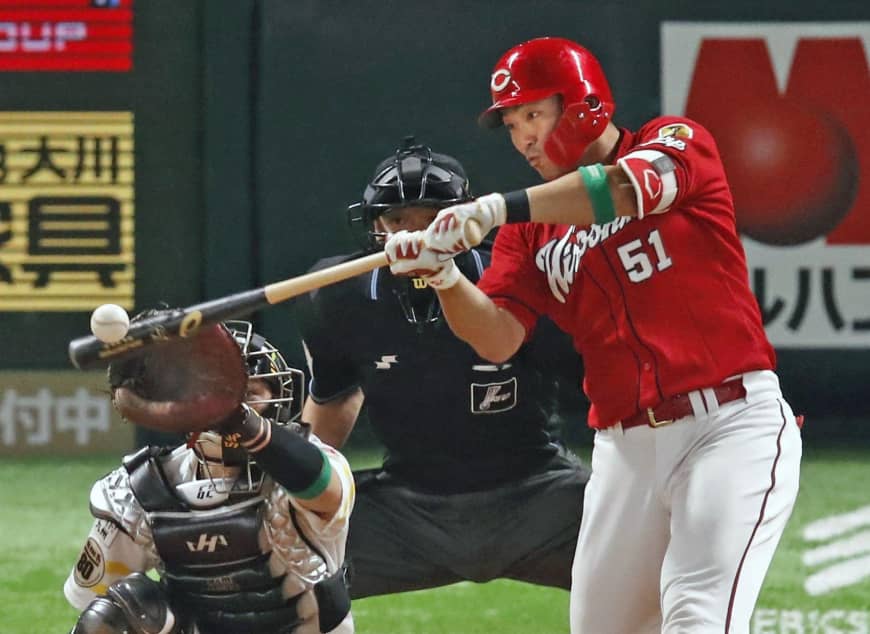 Seiya Suzuki, Hiroshima Toyo Carp, led the NPB in WAR in 2019.
(Photo by Kaz Nagatsuka/Japan Times)
5. Hiroshima Toyo Carp, 2019 Record (70-70-3)
Former MLB Players: Kris Johnson, Taylor Scott, Jose Pirela
Position Players: (7/10)
The Carp are anchored by one of the NPB's best players in OF Seiya Suzuki, The 25-year old hit 28 HRs and 87 RBI in 2019 to go along with his leading slash line of .335/.453/.565. Suzuki also put up 25 stolen bases, making him one of two players hitting at least 25 home runs and stealing 25 bases (The other being Tetsuto Yamada). Ryoma Nishikawa is another young, promising player for the Carp, hitting .297 with 16 HR in 2019. The biggest blow will be losing Xavier Bautista who was second on the team in homeruns and RBI. Bautista was suspended in 2019 after he was found using a banned substance. The Carp released him earlier this year.
The Carp are also one of the better defensive units in the NPB. Infielder Ryosuke Kikuchi is regarded as the best fielder in the league, winning his seventh Golden Glove in 2019. Suzuki took home his third Golden Glove in 2019, as well.
Pitching: (6/10)
The Carp are led by Kris Johnson and Daichi Osera in the rotation. Both pitchers had 11 wins in 2019. Johnson's ERA was 2.59 while Osera's was a solid 3.53. These pitchers will need to keep up their games to make up for a lack of pitching talent on the rest of this team. Yasunori Kikuchi and Geronimo Franzua are expected to headline this bullpen, which can be described as lackluster. The Carp will look for some improvement in young starter Makoto Aduwa, who was 3-5 with a 4.32 ERA in his first year at the top level.
Overall: (13/20)
Hiroshima will go as far as Seiya Suzuki will take them. Suzuki is by far the best player on the team and one of the best in the league. If Suzuki is able to continue his high level of play, the Carp should be able to win the third-place spot in the Central League and perhaps challenge for second behind the Giants. The Carp also get bonus points for their ballpark, Mazda Zoom-Zoom Stadium.
6. Yokohama DeNA Baystars, 2019 Record (71-69-3)
Former MLB Players: Neftali Soto, Tyler Austin, Jose Lopez, Spencer Patton, Edwin Escobar
Position Players: (7/10)
This offense is once again led by power hitting Neftali Soto. Soto has led the NPB in HRs before and is coming off a 43 HR, 108 RBI campaign in 2019. 1B Jose Lopez also contributed 30+ homeruns. This offense will likely take a step back in 2020, as all their top hitters are over 30. Their best overall hitter, Yoshitomo Tsutsugo left the NPB to sign with the Tampa Bay Rays this offseason. In 2019, Tsutsugo hit 29 HR, 79 RBI and slashed .284/.388/.511. Kazuki Kamizato and Keita Sano are decent young players, but they will need to make significant improvement to be able to get on base as much as Tsutsugo did for the Baystars. Signing ex-Yankee Tyler Austin might give the lineup more pop, but it will be getting on base and manufacturing runs where this team really hurts.
Pitching (5/10)
The Baystars pitching rotation is not one to look forward to. After ace Shota Imanaga, the rest of the rotation is like a black hole. The Baystars had the second-worst team ERA in the Central League, including Imanaga's 2.91 mark.

Although the rotation is shaky, the Baystars do have a solid bullpen. They are led by Closer Yasuaki Yamasaki (1.95 ERA, 30 Saves in 2019.) Edwin Escobar and Yoshaki Fujioka served as late inning anchors for this team in 2019. They will need to continue their production to help keep this poor starting rotation afloat.
Overall (12/20)
The loss of Tsutsugo will be devastating for this team in 2020. Although he does not have the same power that some of his foreign-born teammates have, Tsutsugo was the best overall player for Yokohama. Without any notable additions, it is hard to see a team improve on a somewhat average 2019 season after losing their best player.
7. Orix Buffaloes, 2019 Record (61-75-7)
Former MLB Players: Adam Jones, Andrew Albers, Brandon Dixon, Steven Moya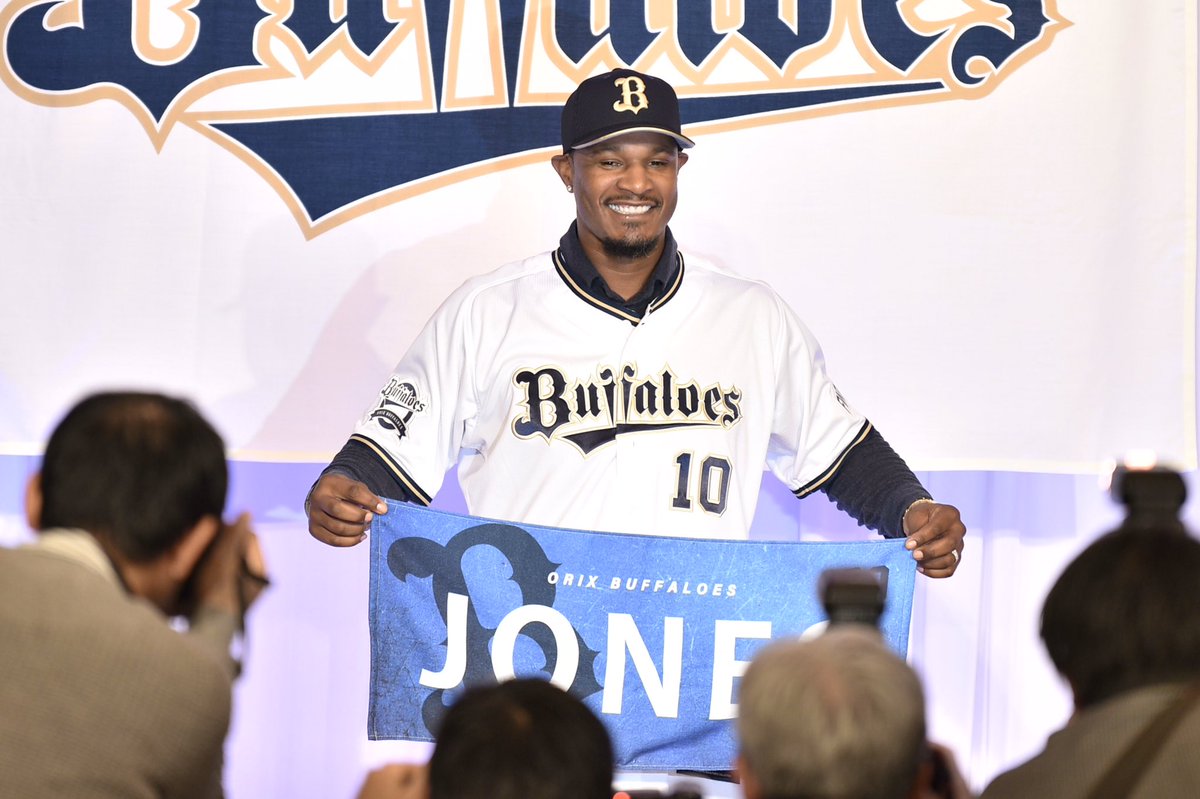 In a surprising move, former Oriole/Diamondback, Adam Jones signed with the Orix Buffaloes this offseason.
(Photo via Orix Buffaloes/Twitter)
Offense: (5/10)
The Buffaloes lost one of their best hitters in Stefen Romero to Fukuoka and are attempting to replace him with ex-MLB OF Adam Jones. Jones had a significant decline in production in 2019 and decided to play full-time in the NPB rather than accept a bench role in the MLB. Even if Jones returns to his production levels during his prime, the Buffaloes are very thin offensively after All-Star Masataka Yoshida.

The Buffaloes are also not very strong defensively. They rank towards the bottom of the league in team defense and were one of two teams that did not have a Golden Glove Winner in 2019.
Pitching (8/10)
Orix is projected to have one of the better pitching staffs in the league in 2020. The young duo of Taisuke Yamaoka and Yoshinobu Yamamoto is one of the best in the entire league. Both pitchers are approaching a strikeout per nine innings and sport low walk rates. Run support will be a problem for these pitchers as seen by Yamamoto's 1.95 ERA, yet 8-6 record.
Overall: (13/20)
The Buffaloes are an interesting team to watch in 2020. Unfortunately, they are way too reliant on three players (Yoshida, Yamaoka, and Yamamoto.) They led the league with seven ties last year, but it is hard to see many of those translating into wins because of the lack of offense. It will be interesting to see if Keita Nakagawa and former Tigers prospect Steven Moya can combine with a rejuvenated Adam Jones to step-up a lackluster offense. If the Buffaloes can do that, their pitching will carry them up these rankings.
8. Chiba Lotte Marines, 2019 Record (69-70-4)
Former MLB Players: Brandon Laird, Leonys Martin, Jay Jackson, Frank Herrmann
Position Players: (7/10)
The Marines scored the second-most runs in the Pacific League in 2019, with a more balanced attack than some of the heavy hitters in this league. 2018 All-Star Shogo Nakamura will need to improve on a somewhat down year in 2019 where he hit only .232. Brandon Laird is another example of a forgotten MLB player who has become a star over in Japan. He hit 32 HRs and drove in 89 runs in 2019, while slashing .248/.333/.483. It's hard to expect the same numbers from Laird and players like Leonys Martin in 2020, so the Marines are likely to regress offensively. Seiya Inoue is a bright spot in this Marines lineup, but the majority of their hitters are replacement level and approaching 35 years of age.
Pitchers: (6/10)
The Marines are headlined by 21-year old Atsuki Taneichi who went 8-2, 3.24 ERA in 2019. Although his strikeouts were solid, Taneichi still walks too many hitters and needs to improve his WHIP to become a true ace. Starters Ayumu Ishikawa and Manabu Mima are solid pieces to the rotation but none of them are exactly moving the needle. Their bullpen is about average for the league as they lack a notable, consistent back end.
Overall: (13/20)
The Marines are looking to contend with the Golden Eagles for the third playoff spot in the Pacific League, but that outcome is unlikely. The lack of improvement on this Marines team is concerning. Their offense is projected to regress, and they will need many pitchers to step up their game to remain competitive in 2020.
9. Hanshin Tigers, 2019 Record (69-68-6)
Former MLB Players: Kyuji Fujikawa, Kosuke Fukudome, Jefry Marte, Justin Bour, Jerry Sands, Jon Edwards, Onelki Garcia
Position Players: (6/10)
The Hanshin Tigers were one of the worst offensive units in the NPB in 2019. They were dead-last in on-base percentage and slugging. They also drove in the least amount of runs in the Central League. Ex-Angel Jefry Marte is a bright spot for the team, slashing .284/.381/.444. The Tigers will need more than 12 HR out of the 29-year old, but he was sidelined for about 40 games last year. The Tigers will continue to rely on 43-year old Kosuke Fukudome and 38-year old Yoshio Itoi to provide hits and get on base for this team.

The saving grace for the Tigers is that unlike many teams in the NPB, they addressed their power issue. They signed another Ex-Angel in Justin Bour, as well as Jerry Sands, who was enjoying a career renaissance in the KBO. This is a perfect opportunity for Justin Bour to get his swing back and show off the power and average he hit for as a Miami Marlin. The Tigers will still have trouble getting on base in 2020, but they might be able to get some more power into this lineup by relying heavily on foreign imports.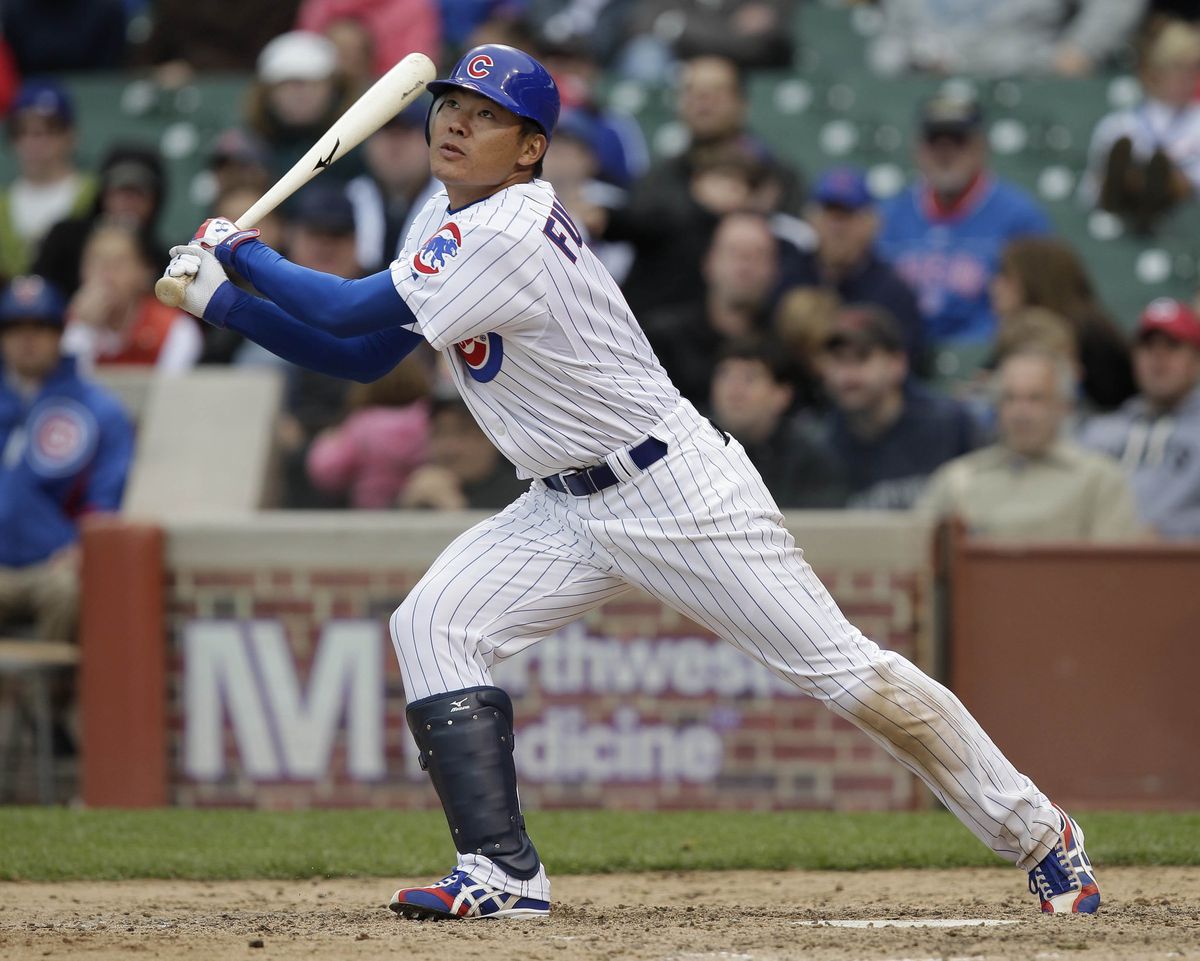 Kosuke Fukudome, Hanshin Tigers, is still a productive hitter at age 43.
(Photo by Jose Osorio/Chicago Tribune)
Pitchers: (5/10)
The Hanshin pitching staff is not so promising after starters Yuki Nishi and Koyo Aoyagi. Nishi was 10-8, 2.92 ERA with a WHIP of 1.13 and a low walk rate. More run support should help Aoyagi (9-9) and Haruto Takahashi (3-9) as both pitchers eclipsed 100 strikeouts and had sub-four ERAs.

In the bullpen, the Tigers will need a stark improvement from Onelki Garcia and a career resurgence from former-Cub Kyuji Fujikawa. Those pitchers have big shoes to fill as the Tigers lost two of the best relievers in the league, Rafael Dolis and Pierce Johnson, to the Blue Jays and Padres, respectively. If the Tigers can provide their pitching staff with some more run support and the bullpen can hold its own, they could earn a higher grade.
Overall: (11/20)
Hanshin will likely battle the Carp for 3rd place in the Central League. In regular years, this could be an exciting head-to-head, but without a Climax Series in the Central League, there isn't as much to look forward to. The Tigers have the talent to improve upon their 2019 record, but they do not have as much to play for and have many hurdles.
10. Chunichi Dragons, 2019 Record (68-73-2)
Former MLB Players: Dayan Viciedo, Zoilo Almonte, Enny Romero
Position Players: (6/10)
Chunichi is another lineup that lacks a lot of true power. Their best player is former White Sox INF Dayan Viciedo. Viciedo slashed an impressive .315/.374/.496 in 2019. He drove in 93 runs but only hit 18 HRs, a number that the Dragons hope he improves on. The Dragons rely heavily on contact hitters to score runs. They churned out a league-average offense in 2019, in terms of run output. They are lacking a power threat but are hoping that full seasons from Zoilo Almonte and Nobumasa Fukuda might be able to solve that. Both players slugged over .500 but did not have a full season's worth of at-bats.

The Dragons sport one of the best defensive lineups in the NPB. Shuhei Takahasi and Yohei Oshima both won Golden Gloves in 2019. This award was the seventh of Takahasi's career.
Pitching: (4/10)
The Dragons are led by Yuya Yanagi (11-7, 3.53 ERA) and Yudai Ono (9-8, 2.58 ERA) in the rotation. In the bullpen, Hiroto Fuku (2.05 ERA) and Raidel Martinez (2.66 ERA) lead the way. In 2020 however, the Dragons will be without arguably their best reliever in Joely Rodriguez. Rodriguez signed with the Texas Rangers this past offseason. Another stud reliever, Enny Romero is expected to miss almost half the season with a shoulder injury. This grade will stay low until pitchers like Fuku and Martinez prove they can handle the spotlight of the late inning appearances they will be forced into. Last year's closer Toshiya Okada was less than desirable, so late-game innings seem to be up for the taking.
Overall (10/20)
The Chunichi Dragons do not seem to be finished with their rebuild. They will need to continue to build around Yuya Yanagi and young stud Takumi Yamamoto. On offense, the Dragons will need to surround Viciedo with younger, power hitters or the Dragons might miss the window of opportunity with Viciedo and Yudai Ono.
11. Hokkaido Nippon-Ham Fighters, 2019 record (65-73-5)
Former MLB Players: Christian Villanueva, Nick Martinez, Bryan Rodriguez, Drew VerHagen
Position Players: (4/10)
The Fighters had one of the worst offensive units in the NPB, only above the Buffaloes in the Pacific League. The main reason that the Fighters get a worse rating than the Buffaloes is because of their severe lack of power. Their top HR hitters in 2019 (Taishi Ota,Sho Nakata) hit in the low 20's and did not slug over .450. These numbers were improvements for both players well into their primes, so regression is certainly not out of the question. Their lone bright spot is C Kensuke Kondo, who is known for being a strict contact hitter. Chrisitan Villanueva hit for decent power in San Diego but could not stick with the Yomiuri Giants. A fresh start for the Fighters might be good for his career, but the signing is not very promising.
Although the offense will be one of the worst in the league, their defense is very solid. They have Gold Glovers all around the diamond in Sho Nakata, Takashi Ogino, and Haruki Nishikawa.
Pitching: (7/10)
The Fighters pitching staff is much more talented, relative to their offense. Kohei Arihara's 15 wins led the NPB in 2019 and he also sported a 2.46 ERA. Nayoshi Miyanishi, Bryan Rodriguez, and Kazutomo Iguchi will make up a very solid bullpen for the Fighters. They still need help rounding out this staff to counteract for their putrid offense.
Overall: (11/20)
The Fighters look like one of the worst teams in the NPB for 2020. They need to acquire some power hitters and continue to develop their pitching staff if they are going to improve. This does not look like it's fixable in 2020 and is a sign that the Fighters are in a true rebuild.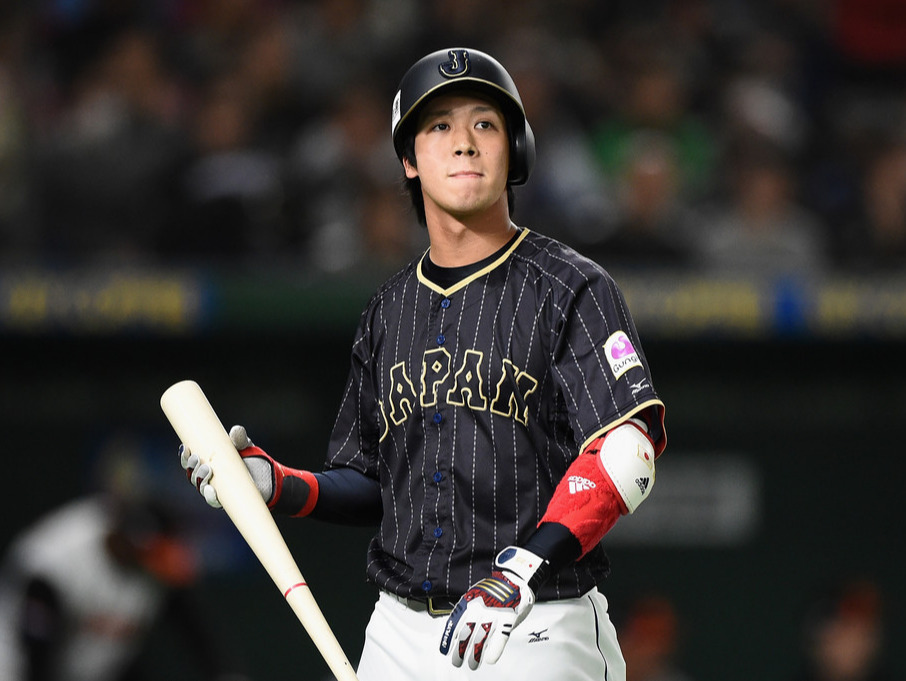 Tetsuto Yamada, Yakult Swallow, can be called the best player in the NPB and is known as "Japanese Mike Trout"
(Photo by Koji Wantanabe, Getty Images)
12. Tokyo Yakult Swallows, 2019 Record: (59-82-2)
Former MLB Players: Nori Aoki, Alcides Escobar, Gabriel Ynoa, Matt Koch, Scott McGough, Albert Suarez
Offense: (6/10)
The Swallows are the bottom-feeder of the NPB, with the worst record in the league. Ironically, they feature, perhaps, the league's best player. Tetsuto Yamada (35 HRs, 98 RBI) slashed .271/.401/.560 and is known as the "Japanese Mike Trout." The Swallows also have 20-year old Munetaka Murakami who led the team in home runs as a 19-year old in 2019. Murakami projects to be a future star and the Swallows will need him to be, with Yamada's free agency pending after this season. Nori Aoki still hits close to .300 at age 38, but the Swallows will be hurt significantly by the loss of Wladimir Balentien to the Hawks. Balentien was their third-best hitter and put up huge numbers in 2019 (33 HR, 93 RBI). Signing the light-hitting, ex-Royal, Alcides Escobar does not provide much confidence in replacing Balentien's production.

Although their offense was solid, the Swallows were one of the worst defensive units in the NPB. They were last in the Central League in fielding percentage and committed the second-most errors. This seems like the only area where signing Alcides Escobar helps the team. The Swallows were the only other team without a Golden Glove winner in 2019.
Pitching (3/10)
The main reason why the Swallows were the worst team in the NPB last season, was their brutal pitching staff. The only seemingly decent pitcher on this roster is Masanori Ishikawa, who went 8-6 with a 4.13 ERA in 2019, is entering his age-40 season. The rest of this rotation put up very poor stats in 2019 and are not projected to show much improvement. The Swallows will be giving a second shot to ex-Oriole Gabriel Ynoa, who showed flashes of good stuff during his time in the major leagues. Hopefully, Ynoa can provide solid innings for this Swallows team, otherwise they are in more trouble in 2020.
Overall (9/20)
2019's worst team will likely retain that title in 2020. The only bright spot was a halfway decent offense, which has now lost one of its best players. It will be interesting to see the decision of Tetsuto Yamada at the end of the season. He might look to move on from the losing ways of the Swallows and perhaps even take a shot at joining a major league ballclub. He is probably the most talented player in the NPB, currently. He could definitely make an impact at the big-league level.