Note: These Over/Unders are in reference to the expected 162-game season. Should the amount of games in the season change, these lines will be adjusted, and therefore this article will also be updated. Check out our COVID-19 Tracker for more updates on the status of the season.All statistics courtesy of ESPN, Baseball-Reference, and Fangraphs
Kansas City Royals – Over 64.5 Wins
Notable Additions: Maikel Franco (PHI)
Notable Subtractions: Cheslor Cuthbert (CHW), Brian Flynn (TEX)
Last season, the Kansas City Royals finished 59-103. Maikel Franco (the only meaningful addition to this team) does not give fans much confidence in the 2020 Royals. A deeper look tells a different story.
The 2019 Royals were bad, but a certain degree of misfortune can be attributed to that. Pythagorean Win Percentage is a method of predicting the expected winning percentage of a team, based on runs scored and allowed. (RS2 / [RS2 + RA2]) It is now common to use 1.83 as the exponent, after Baseball Reference proved to lower the margin of error. Math lesson aside; by Pythagorean WP%, the Royals had an expected record of 64-98, a five win improvement.
The age-old saying, "Defense wins championships" is applicable to all sports. In baseball specifically, strong defense is directly correlated to over-preforming season win total projections. The Royals were the sixth best defense in the majors last year, and are only looking to improve. The addition of Franco will likely push Hunter Dozier into playing more in RF, and also push White Merrifield into CF. Both players rank higher at those positions than at their previous positions, 3B and RF, respectively. Alex Gordon is still a solid defender despite showing some signs of regression at age 36. In LF, he remains a strong, above-average defender. The young combination of Adalberto Mondesi and Nicky Lopez, will continue to prove to be one of the best defensive looks, up the middle.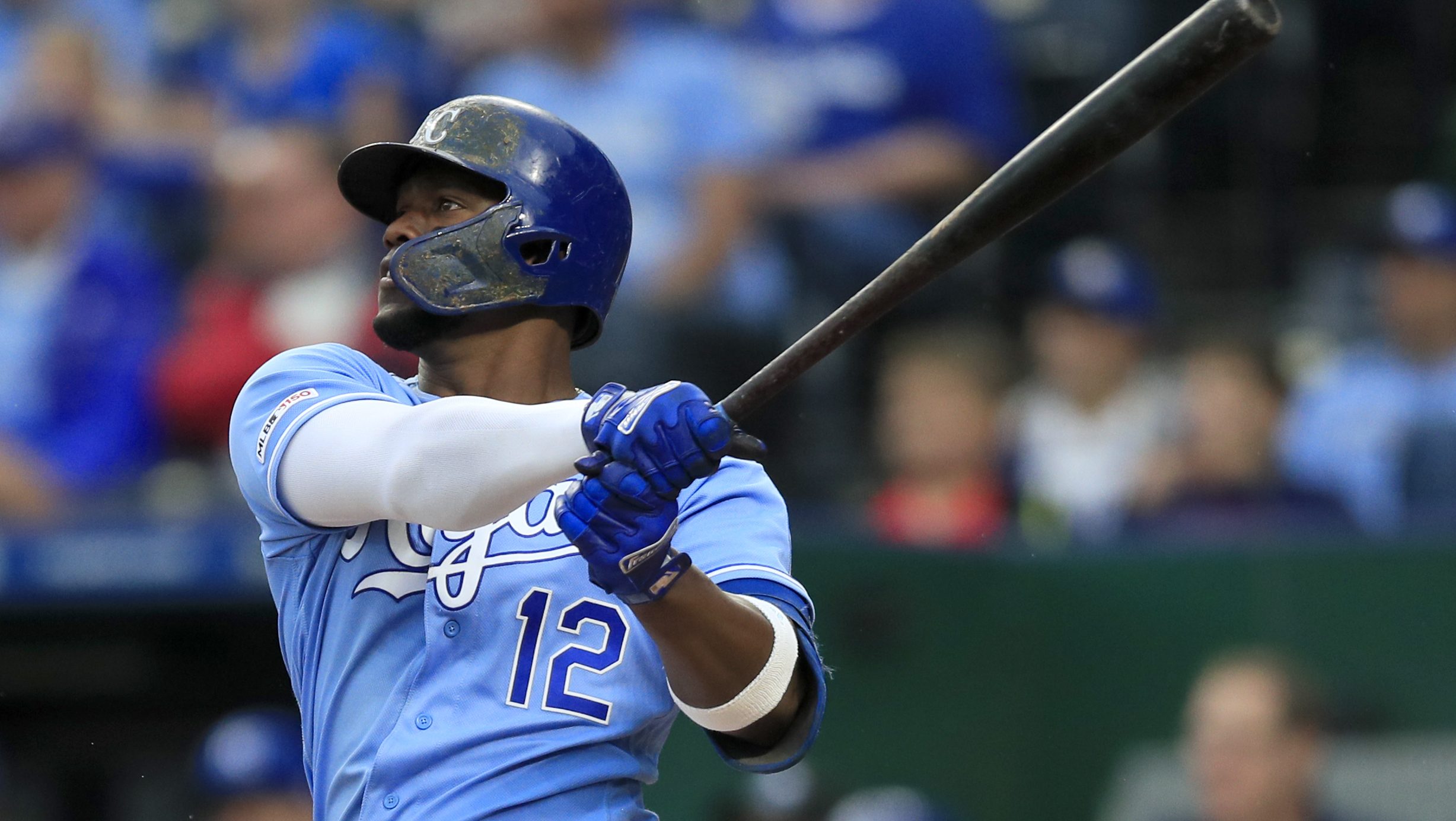 Jorge Soler led the majors in HR in 2019, hitting a Royals team record, 48.
(Photo by Nick Stellini/Associated Press)

It's hard to expect the same power numbers from Jorge Soler in 2020. However, he boasts a strong .350 OBP, partially due to his 11% walk rate. Further, Soler had a BABIP (batting average on balls in play) of .294, suggesting that he was unlucky to a degree, when hitting in 2019. Soler will likely not eclipse his 2019 power numbers, but we may see an uptick in overall hitting numbers. The Royals shed their negative-WAR players, Cheslor Cuthbert, Lucas Duda, and Chris Owings, which will give more playing time to higher impact players, and more major league development for Jorge Lopez and Ryan O'Hearn.
The Royals' pitching is the chief concern of this roster. The Royals are hoping Brad Keller can improve upon a decent season, where inconsistency plagued him through very tough stretches. Danny Duffy, Jakob Junis, and Jorge Lopez all need to improve on their 2019 campaigns where they had ERAs of 4.34, 5.24, and 6.33, respectively. Kansas City is sticking with starter-turned-closer Ian Kennedy in 2020 and also added Greg Holland and Trevor Rosenthal to a shaky bullpen. If these new additions don't work out early, expect them on outright waivers. The Royals have plenty of pitching depth on their 40-man roster, with many high-round draft picks including Josh Staumont, Kyle Zimmer, Foster Griffin, and Scott Blewett. This is a worrisome pitching staff, but we aren't asking them to make a playoff run.
The most important piece of this puzzle is the return of 2015 World Series MVP, Salvador Perez from elbow surgery, which kept him out for the entirety of 2019. Perez has been an All-Star every year since 2013, and ranks above average both offensively and defensively in every season. Perez is a much needed upgrade at the catcher position, as the Royals are primed to improve on their record from last year and easily go over this win total. Don't be surprised to see the Royals getting closer to 70 wins than 60.
Chicago White Sox – Under 84.5 Wins
Notable Additions: Yasmani Grandal (MIL), Dallas Keuchel (ATL), Nomar Mazara (Trade/TEX) Edwin Encarnacion (NYY), Steve Cishek (CHC), Gio Gonzalez (MIL)
Notable Subtractions: Ivan Nova (DET), Yolmer Sanchez (SFG), Ryan Cordell (NYM)
The Chicago White Sox were one of the big winners of the 2019-20 offseason, adding some of the top talent available on the market, and trading for right-fielder Nomar Mazara. Although the White Sox brought in a ton of talent, asking them to make a 13-game improvement over their 2019 record of 72-89, seems like too much. Even more concerning, their Pythagorean expected record was even lower at 69-92. (Due to consistent rain outs, the Tigers and White Sox both only played 161 games in 2019.)
Just as sound defense correlates with overs, poor defenses correlate with unders for season win total projections. In 2019, the White Sox were a bottom-five team in most defensive statistics. Their 2020 defense looks to be even worse, as Tim Anderson, Jose Abreu, Eloy Jimenez, and Nomar Mazara all grade out as below-average defenders. Grandal presents a major offensive upgrade over James McCann (relegated to back-up duty) but he is not much of a defensive upgrade. Utility-man Leury Garcia looks to start at 2B this season, where he is an average defender. At all other positions, he was below-average. Switching Yoan Moncada from 2B to 3B might prove to be the White Sox's best decision, as in 2019, he went from a defensive liability up the middle, to an above-average defender at the hot corner.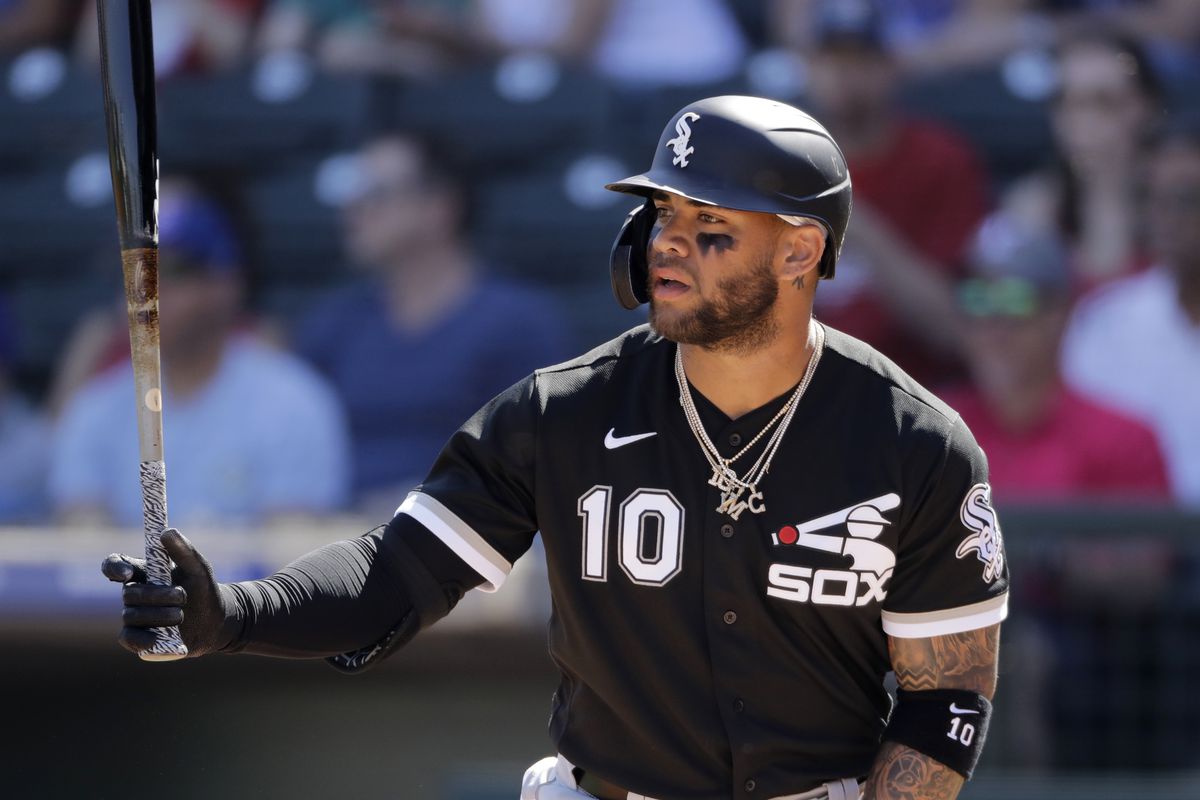 Yoan Moncada put together a 4.8 WAR season, and successfully transitioned from second-base to third.
(Photo by Charlie Riedel/Associated Press)
In 2019, Tim Anderson led the majors with a .335 batting average. To think that Anderson will repeat those numbers in 2020 seems foolish. White Sox fans seem to be in for a big surprise when their "superstar" shortstop returns to mediocrity. Anderson's 3.7 WAR in 2019, was only slightly better than the 3.1 WAR he posted in 2018. Anderson declined defensively in 2019, and had an abysmal 2.9% walk rate. A .357 OBP would be fine for most hitters, but is utterly surprising for the league's top hitter. Anderson also had a .399 BABIP, suggesting that his batting average will likely go down, as his BABIP returns closer to the median. Anderson, a former first round pick, can still be an improving player, but the jump from 18-19 seems unrepeatable in 2020. Further, Jose Abreu is another player who seems to have some unwarranted pedigree. Although he led the lead in RBI's, he had one of his worst seasons to date, from a value perspective. (Including his 2018 campaign where he missed over 40 games). Abreu posted his lowest walk rate and highest strikeout rate to-date, leading to a much lower OBS (On-base % + slugging %) than his average between 2014-18. Abreu is also a huge defensive liability at first base. Signing a better defensive first baseman to shift him over to DH would have been the more logical move, than signing Edwin Encarnacion, who feels just like an older, less effective version of Abreu.
Although Chicago was very active in changing their team, the improvements are minimal. The Encarnacion signing doesn't make much sense, and they acquired a net-negative player in Nomar Mazara. The pitching staff is also grounds for major concern, as after Lucas Giolito, no one in this rotation looks like they can keep their ERA under 4.50. This is also not a playoff bullpen, relying on an inconsistent closer in Alex Colome, and a cast of unproven (Aaron Bummer, Jace Fry) or washed up (Steve Cishek, Kelvin Herrera) bullpen arms. The lack of depth at every position except for catcher is alarming, especially for a team with its eyes on the playoffs. On paper, the White Sox look like they got better, when in reality they made very low-impact moves, and will still rely on their young core to continue to improve. 13 games is way too much.
The White Sox have done a truly incredible job stockpiling talent and young players with superstar potential. Yoan Moncada, Luis Robert, Eloy Jimenez, Lucas Giolito and Michael Kopech will make for one of the best cores in baseball in the coming years. I believe in this group, but the auxiliary talent and timing is not right in 2020.
Oakland Athletics – Over 89.5 Wins
Notable Additions: Austin Allen (Trade/SDP), Tony Kemp (Trade/CHC)
Notable Subtractions: Jurickson Profar (Trade/SDP), Tanner Roark (TOR), Blake Treinen (LAD), Homer Bailey (MIN), Brett Anderson (MIL), Josh Phegley (CHC)
It is rare that you look at a team that has made very few notable additions, and expect them to improve. Oakland had a 97-65 record in 2019, so this win total is projecting about a 7-8 game difference. There is no way that the departed players were so high impact that there is such a bearish sentiment on the Athletics. Rather than look for outside help, the 2020 Athletics will bring up loads of fresh, young, talent from within their deep organization.
In 2019, the Athletics had the best defense in baseball, and in 2020 this is likely to continue. The headliner is third-baseman Matt Chapman, who is perhaps the most fun player to watch field the position. (Watch this highlight video and take notes.) Chapman is the gold standard for fielding in practically every defensive category, and has amassed a 9.2 dWAR in only 2.5 season in the bigs. There are plus defenders at every single position on this team. Matt Olson, Ramon Laureano, and Stephen Piscotty are all solid defenders at their positions. The development of Marcus Semien's defense has been well documented as he has turned himself from a one-dimensional player to an all award star, with a 8.9 WAR rating in 2019. The A's traded Jurickson Profar, who posted a 0.3 WAR in 2019, this offseason, and replaced him with light-hitting Tony Kemp. Profar was a net negative on defense, while a Tony Kemp/Franklin Barreto platoon will look to provide more speed and better defense at second-base. Oakland has also decided to roll with their #3 prospect, Sean Murphy, as the starting catcher in 2020. They got virtually zero production out of the catcher position last year, and Murphy is projected to be a top-tier defensive catcher as soon as he starts. My only gripe with this defense is that they lack a true center fielder, as I find Laureano, Canha, Piscotty, and fourth-outfielder Robbie Grossman best suited for corner spots.
The Athletics are hoping that 2019 was just a blip in production from power htting DH/LF Khris Davis. Davis is just one-year removed from leading the league in home runs, and will need to return to form, to be a high-impact player on this team. The A's lineup is littered with high quality hitters, who get on base, and drive in runs. If Sean Murphy can provide the power that he showed in his limited major-league action, Oakland might be able to get away with a lack of improvement on offense.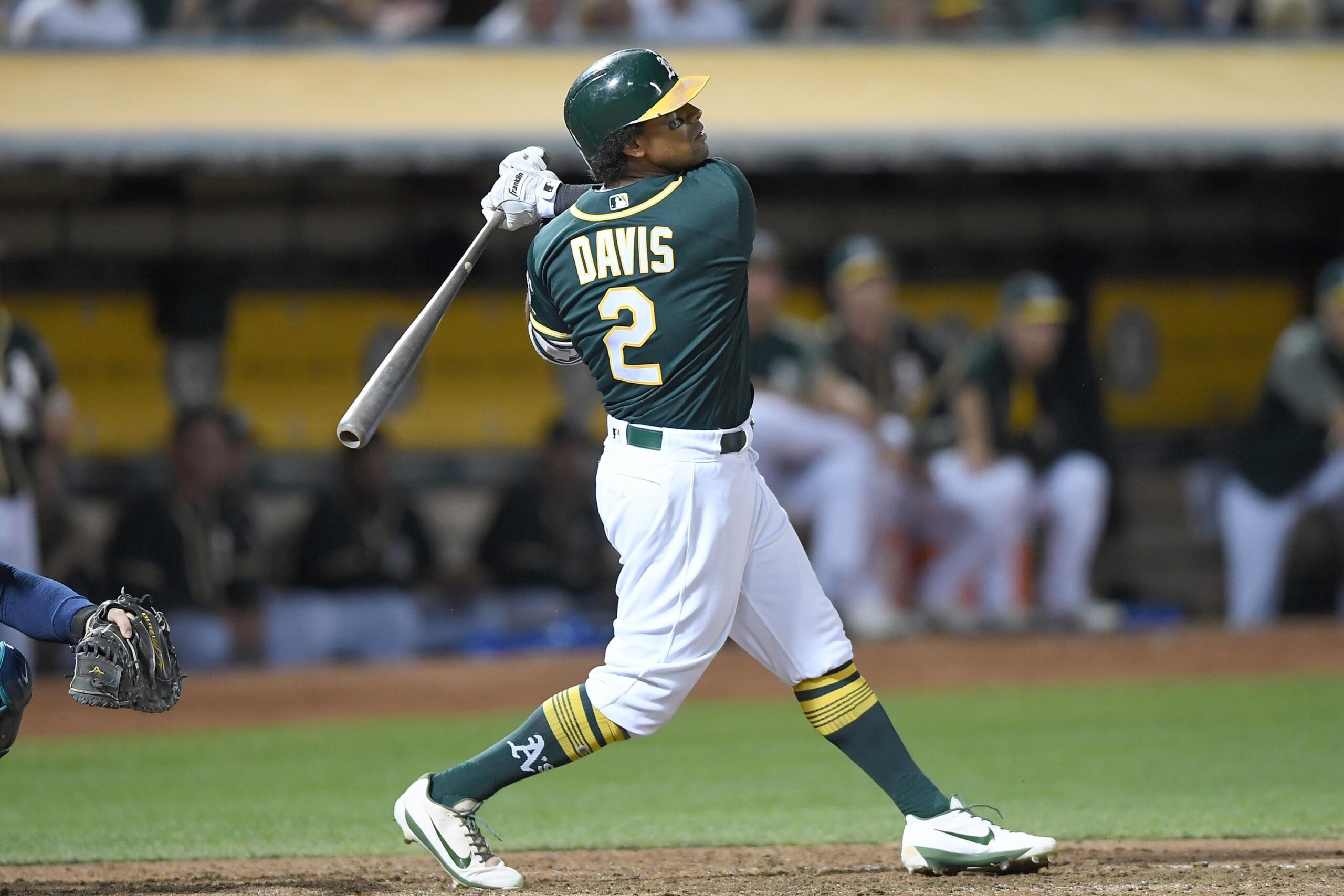 Amazingly, Khris Davis hit exactly .247 for four straight seasons (2015-2018), before dipping to .220 in 2019.
(Photo by Thearon W. Henderson/Getty Images)
The Athletics lost much of the veteran starting rotation they acquired at the trade deadline in 2019. These departures are not so worrisome, as those players were not part of the A's long term plans, (although they did retain Mike Fiers). Oakland will need strong comeback years from Sean Manaea (injury) and Frankie Montas (suspension) in 2020, to lead the top of the rotation. At the tops of their games, both pitchers have shown ace potential in their short careers. The rotation will be rounded out by two rookie of the year candidates in Jesus Luzardo and AJ Puk, the A's #1 and #2 prospects, respectively. I am expecting big things from these pitchers in 2020, and would consider them both prime candidates to win the award. The A's feature a solid bullpen, that could use some trade-deadline reinforcements. Liam Hendriks has been solid since taking over the closer role from the departed, Blake Treinen. It's unclear if aging pitchers, Yusmeiro Petit, Joakim Soria, and Jake Diekman will be able to stay consistent for a long season. This is a spot where I would like to see the Athletics seek some outside help, although their 40-man roster is incredibly deep with major-league level arms.
This A's team is built for long-term success, and can take advantage of a murky AL West. There is a murky outlook on the Houston Astros following the (light) punishment and (heavy) backlash surrounding their sign-stealing scandal. It seems like the market on the Athletics is being brought down by the uncertainty of the Astros, and the improvement of the Angels and Rangers. I am not too high on the Angels this season, as I find them to be in a similar situation to the White Sox. The moves they made might not correlate to the playoff appearances that some people are expecting. I'm staying away from the Angels win total, as the pitching staff is just too weak, even with the likes of Mike Trout, Anthony Rendon, and Shohei Ohtani in the lineup. To me, the Athletics at 89.5 wins is a STEAL to the over, and I would take a long look at their odds to win the division (around +230).